Coptic Presents ''Shut Em Down'' Ft. Lousika & Kwaw Kese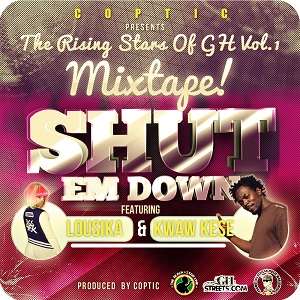 The second single off The Rising Stars of GH Mixtape Volume one is set for release and this time features multilingual F'emcee Lousika and the man who brought madness into the music scene and made it beautiful, Kwaw Kese.
The single titled "Shut Em Down" was produced by US based GH producer Coptic to turn non believers of female rappers to believers. The whole album is dropping online for free downloads this Christmas (December 25th) as part of The Black Star Line project to promote the underground who Coptic believes to be the future of our growing hip hop industry.
This new single and the full Mixtape is coordinated by The Blackstar Line (@GHcoptic), Banks (@BanksGH) & Ghstreets.com (@GHstreets).
Keep your ears on the ground and tuned to all the HipHop shows on radio and online to hear fierceness jell with madness on a Coptic produced beat.
Credits: @abdullaii
Editor-at-large @GHstreets
Download Here: http://www.hulkshare.com/n5wwsjhlt5hc
If you missed the first Single Download HERE: http://bit.ly/MwD2Li