October 24, 2012
|
Hiplife News
Lousika nominated for 4SYTE TV Music Video Awards 2012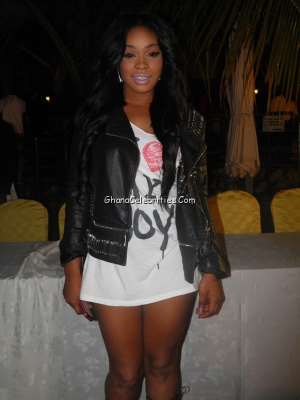 After a successful entry into the music industry with the release of two new singles, 'HANDS UP' and 'TAKE OVER', Boss Chic, Lousika with her looks and talent as a female Hip-hop artiste has earned herself two nominations at this year's 4SYTE MUSIC VIDEO AWARDS.
4syteTV Music Video Awards which is scheduled for the 17th of November 2012 at the Accra International Conference Center (AICC) is an award ceremony which seeks to celebrate the work of Ghanaian artiste and their music videos.
Boss chick, Lousika was nominated in two categories namely, BEST FEMALE VIDEO OF THE YEAR and BEST DISCOVERY VIDEO OF THE YEAR with her popular song titled 'Boss Chick', a video shot and directed by General Jay.
Lousika would contend alongside artistes like Eazzy, Becca, Itz Tiffany, Sala, RnM Fuse ODG, Apaatse, D3, and Natural Face in both categories.
Speaking to Lousika after the Launch of the Awards, she lauded 2131Records for bringing her into the limelight and promised her fans of winning at least an award on 17th November at AICC.
"I urge all my fans to vote for Boss Chick Lousika for BEST FEMALE VIDEO OF THE YEAR and BEST DISCOVERY VIDEO OF THE YEAR" she said. 
Meanwhile the CEO of 2131 Records, Jay Foley has disclosed that Lousika's nominations at this year's 4stye Music Video Awards is strategic since it is very difficult to place artiste in this tight male dominated industry.
According to him '2131 positioned Lousika at a very strategic point where she will merit numerous nominations like next year's Ghana music awards, 4stye Music Video Awards as well as Hip-Hop Awards, Channel O Music Awards and other events lined up to come.
Below is a full list of the categories -
BEST GROUP VIDEO
1. Keche – Alunguntugui
2. Rana feat. Dadie Opanka – Mr. Cupid,
3. VIP – Pampanaa
4. Asaase Aban – Boyz Dey Pay,
5. 4×4 – Yesi Yesi,
6. R2Bees – Life (Walaahi)
BEST MALE VIDEO
1. EL – Turn The Light Down
2. Chase – Lonely
3. Tinny – Anaconda
4. Edem Ghetto Arise
5. Chemphe – Number 1
6. Jay Ghartey – Paapa
BEST FEMALE VIDEO
1. Eazzy feat. Jupitar – Go Go Wind
2. Becca feat. MI – No Away
3. Itz Tiffany – Akyee Wo (Caught Up)
4. Lousika – Boss Chick,
5. Sala – Keteke
6. RnM feat. 4X4 – Simple Luv
BEST CHOREAGRAPY VIDEO –
1. Keche – Aluguntugui
2. Rana feat. Dadie Opanka – Mr. Cupid
3. Fuse ODG feat. Itz Tiffany – Azonto
4. Sarkodie feat. EL – U Go Kill Me
5. Akoo Nana feat. Zigi – Wash & Wear
 
BEST DIRECTED VIDEO
1. Cwasi Oteng – God Dey Bless Me
2. Natural Face feat. Charles Kwesi – So High
3. Sarkodie feat. Obrafour – Saa Okodie
4. M.anifest – Makaa Maka
5. VIP – Pampaana
6. EL – Turn The Lights Down
7. D-Black feat. Mo'Cheddar – Falling
BEST PHOTOGRAPHY VIDEO
1. Natural Face feat. Charles Kwesi – So High
2. M.anifest – Makaa Maka
3. 4×4 – Yesi Yesi, Chase – Lonely
4. Becca feat. MI – No Away
5. D-Black feat. Mo'Cheddar – Falling
 
BEST GOSPEL VIDEO
1. Herty Borngreat feat. Sarkodie – Babree
2. Cwasi Oteng – God Dey Bless Me
3. Selina Boateng – Minku Meho
4. Celestine Donkor – Meni Gwasi
5. Joe Mettle – Nhyira, Gifty Osei – Fefeefe
6. Diana Hamilton – Ensi Wuyie
7. Lady Prempreh – Faafa
BEST COLLABORATION VIDEO
1. Eazzy feat. Jupitar – Go Go Wind
2. Becca feat. MI – No Away
3. D-Black feat. Mo'Cheddar – Falling
4. Stonebwoy feat. Samini – Climax
5. Sarkodie feat. Obrafour – Saa Okodie
6. Okyeame Kwame feat. Irene – Mr. Versatile
7. RnM feat. 4X4 – Simple Luv
BEST REGGAE VIDEO
1. IWAN – Miss U
2. Natural Face – Body Set
3. Stonebwoy feat. Samini – Climax
4. Edem – Ghetto Arise
5. Hans Bekx Brita Day
BEST STORYLINE VIDEO
1. 4×4 – Moko Ni
2. D-Black feat. Joey B – VERA
3. EL – Obuu Mo
4. Okyeame Kwame feat. Kesse – Sika
5. Jon Germain – Tell Me
6. Richie Changing Faces
7. Becca feat. MI – No Away
BEST EDITED VIDEO
1. Natural Face – So High
2. VIP – Pampanaa
3. 4×4 – Yesi Yesi
4. M.anifest Makaa Maka
5. Okyeame Kwame feat Irene – Mr. Versatile
6. Chemphe Number 1
BEST SPECIAL EFFECT VIDEO 
1. EL – Turn The Lights Down
2. VIP – Pampanaa
3. Rana feat. Dadie Opanka – Mr. Cupid
4. Looney – 1 + 1
5. Praye Kwatrikwa
BEST AFRICAN ACT VIDEO
1. P-Square feat. Akon – Chop My Money remix
2. Davido – Damiduro
3. Lira Phakade
4. Wiz Kid Dance
5. Naeto C feat. D'Banj – Tony Montana
6. D'Banji Oliver Twist
7. Camp Mulla – Party Don't Stop
BEST HIPHOP VIDEO –
1. D-Black The Revelation
2. C-Real feat. J-Town – Em.CEO
3. Trigmatic Not Alone
4. Greenfield – Honey Dip
5. VIP Pampanaa
6. Sarkodie feat Obrafour – Saa Okodie
7. M.anifest Makaa Maka
BEST HI-LIFE VIDEO
1. Okyeame Kwame feat Kesse – Sika
2. Paa Kwesi – Naa Adjele
3. Stormy feat Castro – Body & Soul
4. Knii Lante – My Girl
5. Kwaisey P Hyeeahwene
6. Afriyie Love Of My Life
BEST DISCOVERY VIDEO
1. Fuse ODG feat Itz Tiffany – Azonto
2. Lousika – Boss Chick
3. Apaatse feat. Ghetto KB – Wedding Day,
4. D3 feat. Zigi – Good Girls Gone Bad
5. Natural Face feat. Charles Kwesi – So High
BEST HIPLIFE VIDEO
1. VIP – Pampanaa
2. 4×4 – Yesi Yesi
3. Sarkodie feat. Obrafour – Saa Okodie
4. M.anifest Makaa Maka
5. Keche Aluguntugui
6. D2 – Mama Ne Dada
7. Asaase Aban – Boyz Dey Pay
OVERALL BEST VIDEO 
1. Natural Face – So High
2. M.anifest Makaa Maka
3. 4×4 – Moko Ni
4. Sarkodie feat Obrafour – Saa Okodie
5. Cwasi Oteng – God Dey Bless Me
6. D-Black feat Mo'Cheddar – Falling
7. Becca feat. MI – No Away
MOST POPULAR VIDEO
1. Fuse ODG feat Itz Tiffany – Azonto
2. D-Black feat. Joey B – VERA
3. Sarkodie feat EL – U Go Kill Me
4. Keche Alunguntugui
5. 4×4 – Yesi Yesi
6. VIP Pampanaa
7. EL – Kaalu