NIGERIA'S MOST BEAUTIFUL GIRL FINDS LOVE IN GHANA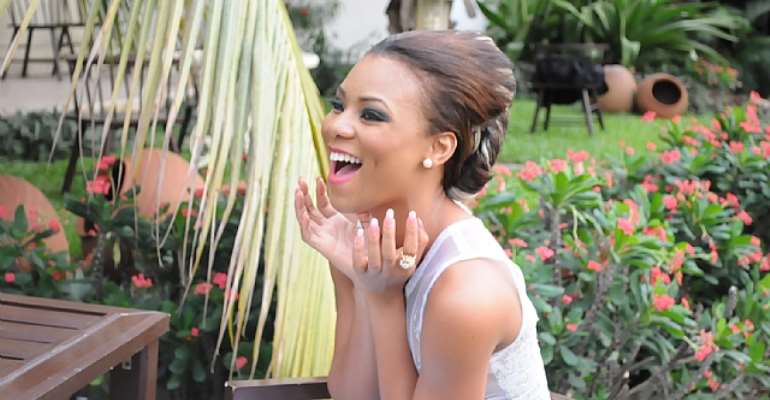 The call came from no other than Prince Etornam Attipoe CEO of NewMax Group. "Quame, Miss Amuzie is in Ghana as we speak now and I want you to interview her before she leaves". When people like Prince calls you to do something all you say is when? Soon as the "when" is determined, you go to work. This case was different because after my own researches online about Miss Fiona Amuzie, I was looking forward to meeting her in person myself. I set off to do this interview knowing the satisfaction is in meeting her and getting to know why she is in Ghana. Being in this industry for a couple of years now, I usually can predict what to expect when interviewing a musician, an actor/actress and beauty queens but Miss Amuzie blew me away with the serenity in her aura and calmness in her voice. She spoke so soft yet so clear about everything from personal life to her life as Most Beautiful Girl in Nigeria 2010, to her time in the UK, passionately about her organisation FOTIP and highly of her family. So we sat down to the crust of our interview and this is what the very gorgeous Fiona has to say.
Q.jr: You are welcome to Ghana Miss Amuzie
Fiona: thank you very much Quame, it is my pleasure to be here.
Q.jr: How is Ghana so far?
Fiona: honestly, it has been amazing, from my arrival at the airport to the Akwaaba (welcoming) city to the beautiful malls, to the bubbly nights. Awesome!
Q.Jr: Any interesting experience yet?
Fiona: I would say the high tides at the beach, the serenity of the environment was just bliss.
Q.Jr: so what brings you to Ghana?
Fiona: well, I've always looked forward to visiting Accra again, and now my sister, Uzo's wedding just made that even more possible. I feel a strong bond to creating long lasting synergies with a few potential partners here.
Q.JR: What will you say about the entertainment industry in Ghana and where do you see Africa entertainment in the next 5,10 years?
Fiona: Africa has definitely risen far above it's expectations within the past few years. Now we have growing technologies and expertise to make that more plausible. From Ghollywood to Ghanaian music, I find Ghana more entertaining than it used to be plus effective collaborations with the Nigerian scenes has made it more interesting.
I see the Ghanaian entertainment industry opening up to more nascent ideas and more collaborations both locally and internationally to further broaden her prospects globally.
Q.Jr: Fiona, what's FOTIP?
Fiona: FOTIP in full means the Fiona Amuzie Oragnisation against Trafficking in Persons and child labour. We cater for the victims of human trafficking and child labour by soliciting for funds from sponsors, providing relief materials to the NAPTIP shelters, empowering the victims undergoing rehabilitation, and organising sensitisation and enlightenment programmes on the issues of modern day slavery.
Q.jr: why FOTIP?
Fiona: FOTIP was inspired by my mother. As a nurse at NAPTIP, she takes care of the victims and nurtures them while in rehabilitation. I had a close up opportunity to hear their cries, and listen to their stories. So, after I was made an ambassador of NAPTIP ( National Agency for the Prohibition of Trafficking in Persons and other related matters), I figured it was time to set up FOTIP as a supporting foundation, to make a positive impact in those lives that find themselves in such unfortunate conditions.
Q.Jr: Where does Prince come in this?
Fiona: Prince proclaimed his dying support for FOTIP and pledged to spend half his time comforting the afflicted of this dreadful crime and the other half afflicting the afflicters. He is one of the potent advocates that an organisation like FOTIP seeks for. Together with all our other partners and sponsors we are fighting for the change our world deserves.
Q.Jr: Now I want to ask you a question that am sure most of our readers expecially the ladies will like to know. Prince is obviously a very busy young man. As somebody who is close to him, I know how hard it is to get him to spare even 30 minutes of his time because of his work demands. How did you manage to get him to be involved with your projects? Am sure folks will like to know the trick.
Fiona: well, I'd say that when something interesting and laudable catches your attention, you will definitely create time for it. No matter how busy Prince might be, he still loves to give; his time, his attention, he is a giver!
Q.jr: what message do you have for your fans in Ghana, Nigeria and all over the world?
Fiona: I haven't met anyone I did not love, so I'd say, I love you all....Tiara kisses.
Q.jr: Thanks for granting me this interview. We will be looking forward to having you again in Ghana. It is my hope that, you take Ghana as your second home. I have no doubt since you are aligning yourself with some of the most important people in our industry, your stay in Ghana will be unimaginable fun and you and your organisation will go where people can't even dare to imagine
My pleasure!
A.A.