Majid Michel for Planet Africa Award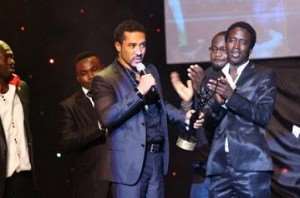 Ghanaian actor Majid Michel has become an 'awards magnet' after winning Africa's best actor award at the last Africa Movie Academy Awards in Nigeria.
The actor has been nominated for one of the world's most recognized and prestigious award ceremonies called 'Planet Africa Awards'.
The 2012 edition of the Planet Africa Award programme is described as one of the biggest awards in the world.
This year's will take place at the Roy Thomson Hall, Canada, on Saturday, October 27.  It will begin with a VIP dinner, followed by the exciting awards presentation.
The award is aimed at identifying role models, especially for the youth, as it recognizes individual and organizational performance at the national and international levels.
Among other elements, the event features world class entertainment as it also identifies and recognizes deserving individuals, organizations, businesses and agencies that make a profound difference in society and the lives of people of African heritage.
Since 2004, this has been achieved by honouring and celebrating their accomplishments at an annual awards ceremony in Toronto, Canada. Awards are presented in categories which include: Leadership, Professional Excellence, Science and Technology, Community Development, Nelson Mandela Humanitarian Award, Media and Entertainment, African Renaissance, Rising Star, Enterprise, Sports Heritage, Academic Achievement, Marcus Garvey Memorial Award, Volunteer and Lifetime Achievement.
Over the last few years, the Planet Africa Awards programme has been proudly sponsored by Bank of Montreal (BMO), Toronto Institute of Pharmaceutical Technology, Royal Bank of Canada, the Canadian Armed Forces, Western Union, Zavic Reality, Sterling Dental Group, Ontario Black History Society, the Chief Emmanuel Mbulu Foundation and Silvertrust Communications.