Ghanaian Musicians Need Cash To Campaign For NPP- A Plus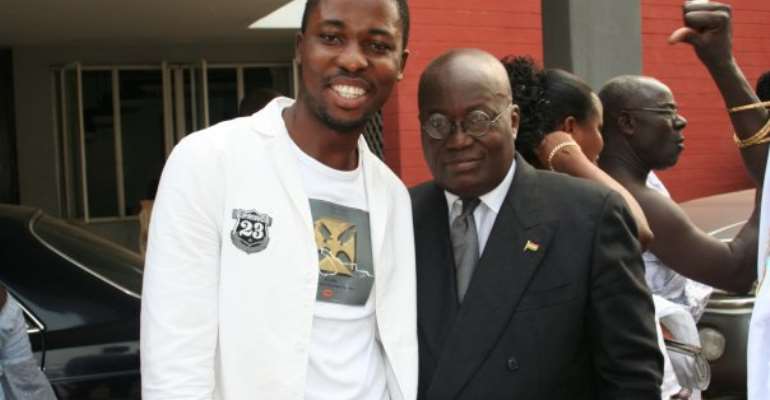 Questions as to why Ghanaian musicians who in 2008 were actively engaged in the campaign of Nana Addo Dankwa Akufo-Addo, presidential candidate for the New Patriotic Party, have lied low this year, are already bandying in the entertainment world.
While it is believed that some of the musicians who campaigned for Nana Addo last four years are ready and willing to campaign for him again but are not coming forth because they have not been motivated in kind and in cash, others have also said that it could be that they have lost faith with Nana Addo.
In a chat with A-Pluz who also campaigned for the NPP Presidential candidate in 2008, he revealed to Flex Newspaper that even if some musicians who campaigned for Nana Addo need motivation or cash to be able to come out fully, he sees nothing wrong with that.
" Attractive Ayinde-You have been in this industry for long and you know studio bills, video bills and other things have increased and you don't expect any musician to go do music for a political party with his or her own money. I don't know what kind of job Ghanaians are expecting those who campaigned for Nana Addo last year to be doing this year. Almost all those who supported Nana Addo last year have recorded songs for him, but don't forget they need Nana's campaign team themselves to bring the songs out. No musician can stand up and go on any political platform if they are not invited' he said.
He continued that he can only speak for himself that he did not wait for any motivation to do a song for Nana Addo last 4years, but rather he did a song and started campaigning for Akufo Addo out of his own volition, but now Nana Addo knows he's working on a peace tour which is more important than any political party in Ghana.
A-Pluz also noted that this year, Nana Addo's campaign has taken a different dimension, compared to how it was in 2008 and doesn't think Nana Addo wants to do too much of people/ musicians campaigning for him but rather he himself meeting people telling Ghanaians what he has to offer them.
He however begged to differ from what some say that the musicians' campaign for Nana Addo last 4 years added nothing to his fortunes. He rather thought it was their campaign that put Nana second on the list of who won more votes.
So why has the musician-campaigning-for-political-parties phenomenon really gone moribund this year?
By:Mustapha Ayinde Inusah/Attractive/GhanaSuperStars.Com