SHOGGY TOSH IS NOMINATED AS JOURNALIST OF THE YEAR AT THE 2012 BEFFTA AWARDS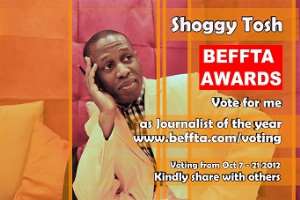 Shoggy Tosh the multi - quadruple award winning Producer, Director & Publisher has been nominated as JOURNALIST OF THE YEAR AT THE 2012 BLACK ENTERTAINMENT FILM FASHION TELEVISION ARTS AWARDS IN LONDON, UNITED KINGDOM. He is nominated alongside ITV News Broadcaster Charlene White, Zambian Journalist Lukwesa Burak that worked for BBC & Sky News, Award Winning Celebrity News Reporter Janelle Oswald, Mimi Fawz, Lorna Cooper & Vox of Africa, BBC, BET & Channel 5's Henry Bonsu amongst other nominees.
Shoggy who is not a trained Journalist (He was a Civil Engineer, Computer aided Engineer & a Product Engineering designer) was advised by his mentor, Rev Tim Omotoso to pursue his career in the field of Media in 2006. Since he went full time into Journalism (TV & print) in 2010, he has won 8 International awards till date including 2 BEFFTA awards in 2010 & the TV Presenter of the year at this year's Africa Gospel Music Awards in London. The full list of his awards is as follows:
Best TV Personality & Best TV Show at BEFFTA 2010 AWARDS.
Best TV Show at BEFFTA 2010 AWARDS.
Best Journalist in Europe & Africa at the AFRICAN EUROPE MULTIPLE 2010 AWARDS.
Best Magazine in Europe & Africa at the AFRICAN EUROPE MULTIPLE 2010 AWARDS.
Best TV Presenter at Gospel Music Awards, Ireland 2011 (SPECIAL CATEGORY)
Magazine of the year at the National Gospel Awards 2011, Nigeria.
Best TV at the National Gospel Awards 2011, Nigeria.
TV Presenter of the year at Africa Gospel Music Awards, 2012.
Shoggy Olusoga Olugbenga Toshwas born in Birmingham, United Kingdom on Wednesday - 9th of January, 1974. He attended the Anglican Church Primary school, Ifako Agege, Lagos State, Nigeria before finishing his education in Akure, Ondo State at St Peters Demonstration Primary School in 1983. He proceeded to Oyemekun Grammer school in the same state for a year and then moved back to Lagos State and completed his Secondary School studies at Keke High School, Agege in 1989 and was the Social & Library prefect.
He famously met Jackie Chan the movie star in the gents at Heathrow airport, London and jammed into 'then' Manchester United football star John Mikel Obithe same day after returning from Johannesburg in South Africa. This was immediately after Rev Timothy Omotosoinstructed him to pursue Media as his newly found profession.
Shoggy studied Civil Engineering (BEng) at the Federal University of Technology, Akure. Ondo State in Nigeria between 1991 and left in 1996. He was the Vice Chairman of Akin-Deko Hall in 1993 and the Students' Union Welfare Officer in 1994. He finally traced his steps back to the United Kingdom, London to be precise and studied Computer Aided Engineering, Engineering Product Design and Digital Media Arts from 1996 - 2004 at London South Bank University. During his time at South Bank University, he participated in the British University Students Association's Games in Stoke-on-Trent (1999) and Bedford (in 2000) in the 400m and 800m but he did not make the grade to the World University games.
After working at Upper Crust London Bridge, Oats London Bridge, The Tower thistle Hotel at Tower Bridge, Dial-a-phone, he worked for Marks & Spencer's, in Knightsbridge before being appointed as an Assistant Manager at Marks and Spencer's Waterloo branch. From there he went on to Tesco - Elmers End in Kent, where he was appointed a Manager. After some years, Shoggy resigned from his post and decided to focus on his major interests - Media, Journalism and writing. He went on in 2006 to write a best seller entitled 'Divine Favour' that sold more than 65,000 copies in till date.
He is currently the Publisher and CEO of TOSH Mag (aka The Official Stars Homepage Magazine) - a top web based entertainment magazine, which provides current updates on stars and artists with an amazing quality - free of charge. TOSH Mag, TV & PR is a multiple award winning online TV, TV Show, Production company, Public relations, Paperback Magazine & Online Magazine based in London, United Kingdom.
TOSH MAG also has a number of TV shows, a thriving online TV, some magazines and a Public relations unit that specializes in branding, promoting and publishing profiles of companies, artistes, sports establishments, actors and more.
Shoggy Tosh has interviewed over a 1,200 top stars worldwide within the space of 30 months including F1 World Champion Lewis Hamilton, his mentor Rev. Tim Omotoso, Hollywood movie star – Jackie Chan amongst others. Check out more about his shows on http://www.youtube.com/user/toshmagor via Oh Box app via Iphones, Ipods, Blackberries and Androids and searching for TOSH Mag TV Show under the video section.
To vote for him at the 2012 BEFTTA awards, kindly visit www.beffta.com/voting and chose Shoggy Tosh as the TV Presenter of the year. You can vote via a computer, laptop, smartphone or ordinary phone by filling an online form with your name and email. Voting started on 7 October and ends on 21 October, 2012. The 4th ANNUAL BEFFTA AWARDS UK IS ON 27th OCTOBER 2012 during the Black History Month at The Hippodrome, North End Road, Golders Green, London - A strictly 'invite only' event. BEFFTA Awards honour and celebrate the achievements of Black personalities in the showbiz. The red carpet event will be hosted by award-winning UK king of comedy Eddie Kadi and BEFFTA founder Pauline Longas co-host.