4x4 Wraps up video shoot for new single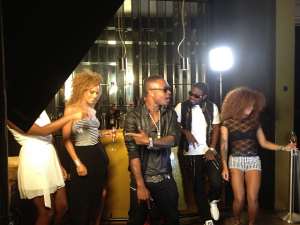 A few weeks after announcing the name of the 6th studio album, Ghana's most consistent hit makers, 4x4 has wrapped up the video shoot of their next single. The video is for their song 'London bridge (fire)' which will be the next offering of the album, scheduled for release before the end of the year.
The video was shot in the city of Amsterdam. According the leader of the group, Captain Planet, 4x4 chose to shoot the video in Amsterdam because it matches the energy of the song. 'The song is very different from anything we have done before and we really wanted to treat our fans to a video that was different from anything they had seen before', Captain planet added. 'From Shaka Zulu to Waist and Power and even Yesi Yesi, we have always made sure that our fans are kept excited and entertained with our visuals. This video will even lift the bar higher' added Coded of 4x4.
As can be expected, the group released some behind-the-scenes pictures of the shoot to their fans on twitter and facebook. The new album title Forward Ever Backwards Never will be released before the end of the year on X4 records.