Miss Excel Plus 2012 Fashion Show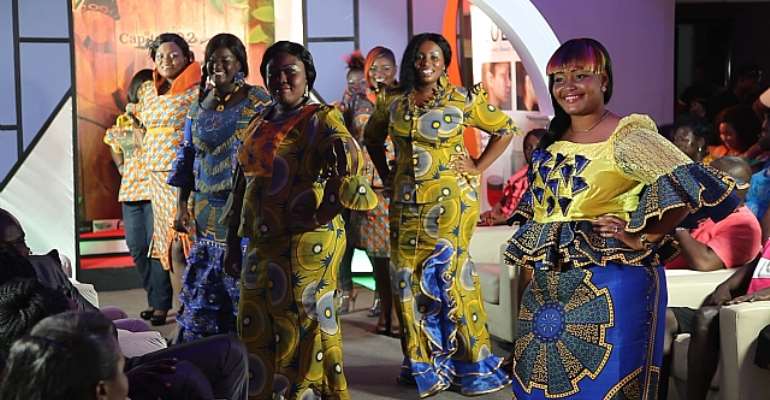 The ExCel Lounge was alive last weekend as the fifteen contestants of MISS EXCEL PLUS show cased their dexterity in the modeling world on the runway. It was an eclectic performance. The fifteen contestants were clothed in different wears from some of Ghana's dynamic fashion designers.
The night saw different designs from Grossa Ventures who made the ladies look exceptionally beautiful in their smart casual wear and kaba and slit; TF collection also designed their dinner wear, PKOG designed funky casuals for the ladies as well.
The audience went gaga when some of the ladies came on the runway in their beach wear, the audience just couldn't hide their joy upon seeing the contestants on the runway.
"Plump size ladies are real African ladies and we need to appreciate and celebrate them "retorted one of the organizers."
That night was eviction and four ladies were up for eviction; Gina, Barbie, Fafa and Flo and these contestants had to justify their inclusion in the pageant. Gina Adeyeng didn't impress the judges that night and was evicted. She went home with packages from sponsors. The Judges for the night were Mawuli Zugbenu, Edwina Oppong and Terry Bright Ofosu.
There were artistes like Awal, Kapusta, Echo, Eduwodzi and Nhyiraba kojo who thrilled the audience to some exciting performances.
Sponsors for this year's Miss eXcel Plus are CAPITAL 02, YAZZ, BLESSED SUPPLIES, ALOETTE, MEDIUM DWELLING COMPANY, DIAMOND MARS, ROSE ALUMINIUM, BLACKPOOL MULTIMEDIA, 21ST CENTURY INITIATIVE LLC, HISENSE ELECTRONICS , CICI MONET INVESTMENTS, RTK HERITAGE ESTATES, COWBELL, EXEL LOUNGE, KONAD GHANA LIMITED, PICO SYSTEMS, EDEN MICROFINANCE, PKOG,GROSSA DESIGNS, GLOBAL STRATEGIC RESOURCES, JAH BLESS ALUMINIUM WORKS AND JOY INDUSTRIES.
TUNE IN TO GTV EVERY TUESDAYS 3:30 PM AND SATURDAYS 6PM TO WATCH MORE CAPTIVATING EPISODES.