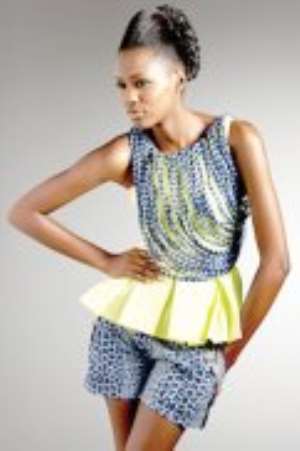 Christie Brown
For the past couple of decades, the clothing industry has struggled to survive as it has had to battle with imports of cheap "oburoni wawu" from the West, mass produced "affordable" clothes from the East and pirated African designs fabrics from everywhere else.
This assault resulted in a lot of bruises to the local fashion industry in many ways. Designers were de-motivated, tailors and dressmakers lost a huge market and perhaps most tragically, the taste for authentic and trendy clothes among consumers took a dip.
Thankfully the parasitic situation could not kill the local fashion industry as some local fabric manufacturers and collaborators persisted and continued to put out clothes and designs that were creative and represented the true looks of Africa.
Today, the increasing number of international standard fashion shows, workshops and buyers showrooms point to a resurgence of the fashion industry in Ghana. Within the past few weeks, two of such top class fashion events have taken place in Accra and a third – Ghana Fashion and Design Week – is scheduled for this weekend.
A particularly fascinating aspect of the Ghana Fashion and Design Week is the exposure of a number of Ghanaian designers who have made their names on the big runways of Europe and America and who are returning to their motherland to show what they have got.
Naturally we at Showbiz, are thrilled at all the interventions and injections that stakeholders are putting into the fashion industry in Ghana with the view if revamping it and bringing it to par with standards elsewhere in the world and we say, Ayekoo! to them.
source: Graphic Showbiz