Guru Thrills Fan @ Joy FM Skuuls Reunion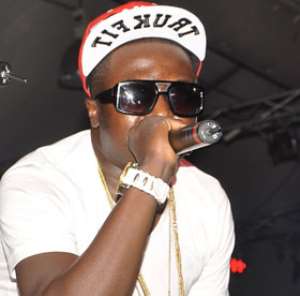 Guru
Accra-based radio station, Joy FM , last Saturday, turned the entire Accra Metropolis upside-down with this year's edition of its annual Old Skuuls Reunion, held at the Trade Fair Centre, La in Accra.
An ecstatic crowd, made up of thousands of old students, thronged the Trade Fair to partake in the event.
It was a pleasant sight to behold as people were seen dancing and hugging old friends they had lost contact with for years.
This year's event drew old students, both young and old, some in their seventies, from various second cycle and tertiary institutions across the country.
The atmosphere on Saturday was charged with various 'jama' songs from the old students who entered the Trade Fair grounds with their own traditional and adapted instruments, to pump up school-based performances.
Virtually every available space in the Trade Fair Centre and its immediate environs, stretching onto the main roads leading to Accra, 37 and Teshie, was occupied.
The event, the biggest outdoor event in West Africa, featured stars like Guru, the 'Lapaz Toyota' singer, who charmed the animated crowd with his greatest tracks with patrons swinging their hands from left to the right in unison.
The fans hipped, hopped and rapped to his 'Democracy' song, a performance worth commending. Before the performances though, old students treated the crowd to renditions of jama songs, which evoked memories of the good old days in their various Senior High Schools.
Old students participated in various competitions, including five-aside football, basketball, 50-metre sprints, table tennis, pool, chess, tug-of-peace, music and dance and eating competition.
Some of the students also treated the crowd to the Azonto tonic, a competition, which by all accounts, was won by a guy from Adisadel College.
By George Clifford Owusu