Rocky Dawuni named Ambassador for UN Foundation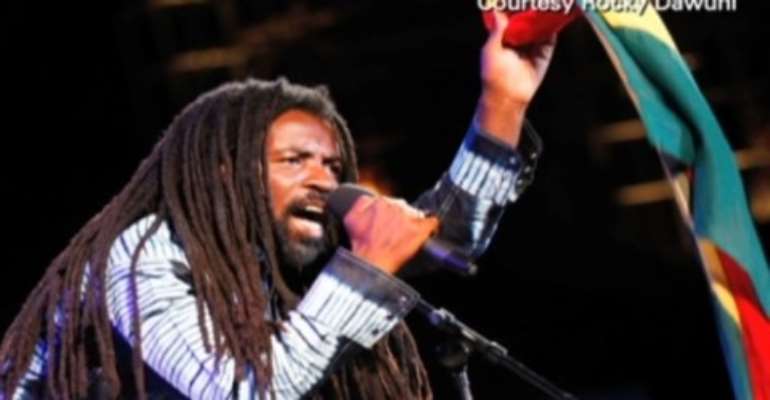 The Musicians Union of Ghana would like to extend a congratulatory message to long standing member, Rocky Dawuni, the Ghanaian International Music Star, Creative Activist and Ghana's World Music Ambassador on the occasion of him being named as the newest member of the Alliance Ambassadors for UN Foundation's Global Alliance for Clean Cookstoves. Award winning actress, Julia Roberts and Chef Jose Andres are already part of this Academy.
Rocky was named at an event to mark the second anniversary of the Foundation. The Executive Director of the Foundation, Radha Muthiah noted the lifetime pursuits of social justice and gender equality by Rocky as assets that were true enough to get him to be appointed as such. On his appointment, Rocky said "as a musician, I know how to use my voice and my heart to connect with people, and when I learned that cooking kills two million people worldwide every year, I knew I had to stand up and speak out to help the Alliance raise awareness. In my native Ghana, throughout Africa, and around the world, it's clear that the time for clean cookstoves and fuels is now, and I'm ready to do my part to assist the Alliance in reaching its goal."
World leaders from civil society, the private sector, and the philanthropic community as well as research pioneers and government representatives came together during the UN General Assembly to discuss the multiple facets of the household air pollution issue, which impacts three billion people daily, and to make major new announcements on behalf of the Alliance, its partners, and the sector.
Rocky Dawuni's eloquence as well as his successful melding of musical celebrity and social action has made him a spokesperson for various causes worldwide. Over the last few years, his music and electric live performances have attracted thousands to his concerts. He has a new album, "Afro Roots" which fully captures his unique fusion of Afro Beat and Reggae while confirming him as an artist in the tradition of both Fela Kuti and Bob Marley in utilizing his music to uplift, unify and inspire.
Rocky will be participating in the first ever Ghana Music week celebration scheduled to happen later in the year. The celebration was launched a fortnight ago and is expected to attract numerous artists, producers, managers, studio owners and stakeholders in the music industry. It will have a weeklong exhibition, symposiums and two major musical concerts. Lovers and fans of Rocky Dawuni can join him at the GMW 2012 to celebrate his latest achievement.