Hitmakers Rock +233 Jazz Today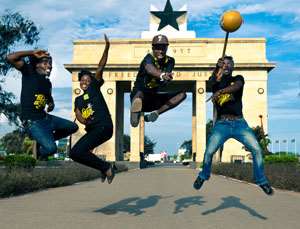 The Final Four
The final four contestants of the MTN Hit Maker music reality show would be performing tonight at the +233 Jazz and Bar Grill, Ghana's premiere Jazz and Live Music Club, perched on the Ring Way adjacent the Ghana Broadcasting Corporation.
The final four; Naterial, Miriam, Atimbilla and Chiki, reports said, would be at the Jazz Bar together with renowned singer and composer Ofie Kodjoe, one of the three resident judges in the competition and from all indications, it would be a spectacle to behold.
Exactly a week from today, the final four would be leaving  no stone unturned as they mounted the stage of the Accra International Conference Centre to compete for the cash prize of GH¢100,000. The first runner-up would also receive a cool GH¢50,000.
Naterial, Atimbilla, Chiki and Miriam were part of some 1700 underground musicians who submitted their music demos for the MTN Hit Maker auditions. The number was shortlisted to 150, then to 48 before the final number of 12.
On a weekly basis, the 12 contestants competed among themselves by performing to a live audience and judges. The song must be an original composition of the contestant.
Organizers have assembled some of the best music producers and sound engineers to help each of the contestants in recording their songs.
At the end of each performance, the contestant with the lowest votes from the public and lowest marks on the score sheet of the judges, was evicted until they were left with a final figure of 4.
Ghanaians still had the opportunity to text the stage name of their favourite contestants to MTN short code 1327.
The final 4 were 26-year-old Miriam Afari Affiaku who went by the stage name Miriam; 21-year-old Shadrack Adjetey Adjei who went by the stage name Naterial; 26-year-old Emmanuel Adu with the stage name Chiki and 22-year-old Atimbila Aterre, known on stage as Atimbila.
By Halifax Ansah-Addo