'Single & Married' registers massive patronage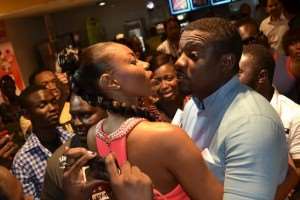 The much anticipated premier dubbed 'Single & Married' over the weekend at the plush silver bird cinema witnessed a massive public patronising of the movie.
Award-winning Ghanaian actress Yvonne Nelson has proven she can be a good movie producer as well as an actress.
The actress left a very positive impression on the minds of movie enthusiasts and stakeholders in the Ghana movie industry with the first premiere of her movie, ' Single & Married' .
Though patronage of movie premieres in recent times has not been encouraging, Yvonne's premiere was impressively attended.
It was tagged the biggest premiere ever at the Silverbird Cinema, as the turnout was huge.
Even though official figures were conflicting, the premiere was said to have set a record attendance at the cinema.
The crowd, made up of Ghanaians, Ivoriens, Liberians, Nigerians, Lebanese and Indians among others, showed love to the film cast and other celebrities as they arrived. There were a lot of screams and cheers for the stars.
Most of the patrons took turns to take photos with Nelson and other members of the cast of the movie and celebrities.
Movie enthusiasts who saw ' Single & Married' expressed satisfaction at the storyline and production.
For the next few weeks, the movie will still be showing at the cinema for all movie fans to see.
A lot of Ghanaian stars, including the movie's cast, also added some colour to the premiering ceremony with their presence.
Among them were John Dumelo, Prince David Osei, Lydia Forson, Fred Nuamah, James Gardner, Khareema Aguiar, Salma Mumin, and Vincent McCauley
Top female musicians Becca, Eazzy, Irene Logan and Deborah Vanessa also wowed the crowd.
Ghana's Big Brother Stargame rep, Keita, iconic presenter KOD, EKB Records boss Kiki Banson, Producer Abdul Salam, and Director Frank Rajah all graced the occasion.
Efya, Chris Attoh, Eddie Watson and Kweku Elliot, who are part of the cast, were also present to spice up the event.