CINEMAS ARE HUNGRY FOR YVONNE NELSON'S 'SINGLE AND MARRIED'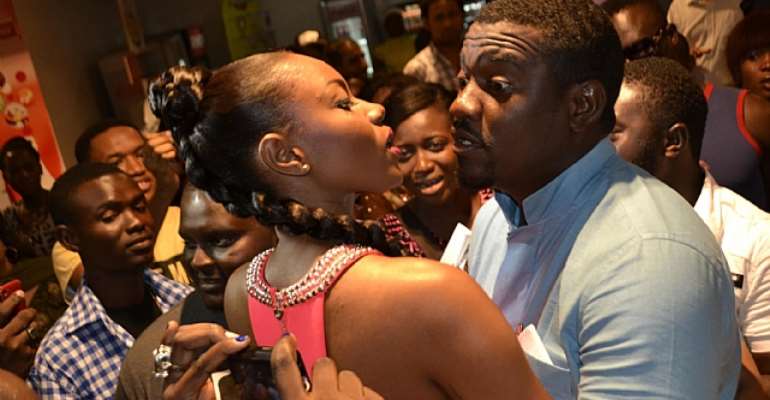 For some time now turnout to movie premieres have really gone low, making us to believe that the movie industry is not as effective as before as produces attest to the fact. On the contrary, Yvonne Nelson and Media GH have been tipped to revive the industry with it new baby titled; Singles and Married.
For the very first time this year, over the weekend, the Silverbird Cinemas got choked as people kept tripping to see the movie 'Single and Married'. The management was left with no other alternative than to call for a second show with an additional hall to help cover the awaiting demand (customers).
The movie revealed five things to keep marriages. One; never introduce your partner to a 'single' friend most especially when he or she is more attractive than you are. Two; Never leave your partner unsatisfied in bed. This is more common with quick cometh men. Three; don't bet or dare a friend that your partner can never have an extra marital affair. The fourth rule was so fanny; relocate when you noticed or feel threatened by the appearance of a new neighbor. To keep you on suspense, we wouldn't let the fifth rule out. It's still showing at the |Silverbird cinema so go find out (teasing).
From a reliable source, the movie is set for a global cinema tour. On Saturday, the 29th of September, Single and Married will be premiered in Lagos. The stars in the movie, Yvonne Nelson, Chris Attoh, Nadia Buari, Kofi Adjorlolo, Eddie Watson, Efya and Tiffany (musician) and Elliot the new discovery, have confirmed their appearance to the Nigeria premiere. "Just as we are here, we will be everywhere the movie goes." Eddie Watson added. John Dumelo, Prince David Osei, Fred Nuamah, James Gardiner, Kobi Rana, Deora Vanessa among other attended the premiere alongside movie makers like; Venus Abdul Salam, Frank Rajah, Hammer, Shangai and Pascal Amarfo, the director of the movie. The premiere was just everything, family affairs, celebs reunion and many more. Don't miss it should you be in Lagos on Saturday.