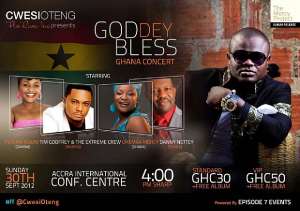 Accra: Tuesday, 11th September, 2012.
Introduction:
Award-winning Ghanaian music sensation, CwesiOteng, is finally set to release his much talked about Mercy Project album via a grand celebration concert dubbed the 'God Dey Bless Ghana Concert' on Sunday, 30th September, 2012, 4pm at the Accra International Conference Centre (AICC).
Event:
The 'God Dey Bless Ghana Concert', anticipated as one of the biggest concerts of the year, will showcase a well-planned and coordinated creative stage production of music by CwesiOteng and the guest artistes on the bill. The event is expected to be a celebration of African gospel in the most creative way as it will parade some of the finest celebrated African gospel music ministers including Tim Godfrey &Xtreme Crew (Nigeria), PenjaniNg'uni (Zambia), Danny Nettey (Ghana) andOhemaa Mercy (Ghana) alongsideCwesiOteng and his Flo'Riva Incorporated team.
Tickets for the event are going for GHc 30.00 (standard) and GHc 50.00 (VIP) with outlets to be announced next week. All tickets will come with a free CD of CwesiOteng's Mercy Project album and some lucky ticket holders will walk away with laptops, iPads, mobile phones and other souvenirs from sponsors during the concert.
Artiste:
Touted as the fresh sound of gospel music, CwesiOteng is an anointed gospel music minister making waves all over and raising the flag of Ghana so high on the African continent and elsewhere.Cwesi has an album to credit, 'Blessed Are They', released in 2008. However, since the restructure of his music ministry with added focus on the youth, charitable works and the release of his inspiring hit singlewith its video, 'Mercy', off the Mercy Project album in 2010, Cwesi has been garnering attention all over the world with his infectious inspiring music that keeps breaking new grounds every now and then and raking in enviable awards.
His second single, 'God Dey Bless Me' released early this year has propelled Cwesi onto greater heights making him one of the influential gospel music brands in Ghana and having a respected presence on the African gospel music scene. 'God Dey Bless Me' is arguably the biggest gospel song of the year and among the biggest all round songs owing to its huge crossover appeal that enabled it break grounds onto secular radio shows and charts all over Africa with its video winning Africa's Video of the Year at the 2012 AGMA.
Advertisement
CwesiOteng brings onto the music scene a unique sound and that passionate movement that strives for the highest standards in creativity and music production in efforts to relay thought-hit provoking messages that should inspire people and society.
Album:
CwesiOteng's Mercy Project album is a highly anticipated gospel album. With God's mercy as the central theme, the album is strong in content as it espouses on sub themes such as God's love, provisions, blessings, salvation, goodness and majesty all related to His mercy that is able to save anybody no matter one's history.It is an album presented with eclectic fusion of African and contemporary urban rhythms crafted creatively that will appeal to all ages especially the youth. The album has already produced hits in the likes of the prelude singles: 'Mercy (But For Your Mercy)', 'God Dey Bless Me' and 'Kabiyesi', and more hits are guaranteed after the album release.