MALAIKA queens go feasting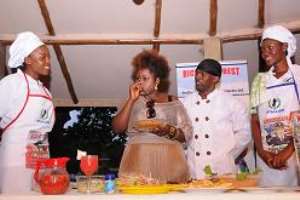 THE popular saying that 'the way to a man's heart is through his stomach', can be switched around to read 'the best way to win the heart of children is through the stomach,' to aptly describe the 'feast of Queens' hosted in Accra by delegates of Miss Malaika Ghana 2012 for deprived children from the Home of Hope Orphanage and Special Attention Project.
The ladies treated the children to a 'feast of Queens' as part of their weekly task last week. The children, from Home of Hope, an orphanage and Special Attention Project, an NGO that focuses on learning disabilities of children, enjoyed sumptuous meals prepared by the delegates, amidst some good music and lots of fun.
The cooking contest, which was sponsored by Stallion rice, Rice and sugar shopping centre, Sadia and Safina water, saw the delegates being grouped in pairs, resulting in a total of five groups.
Sonia and Edlyn prepared for their guest a dish of stir fry noodles with chicken and eggs, chicken nuggets with salad, chips and sauce and for desert prepared fruit salad with custard.
Aisha and Sharon prepared jollof rice with chicken and chicken nuggets, stir fry noodles and salad, and for desert they had a smoothie with water melon, pineapple and ginger.
Ama and Ella cooked Fried rice with chicken, chicken nuggets with chips, spaghetti with chicken stew, which they called 'Malaika Spatata', and for desert prepared ice cream from scratch and frit mix.
Regina and Frances cooked jollof with chicken, chips and chicken nuggets, salad and fresh squeezed orange with ginger.
Anima and Sadia cooked stallion anisadrice, vegetable scrambled eggs, fruit barbecue, tropical pineapple, tropical melon and orange juice.
The Judges for the cooking contest were the renowned actress and diva Lydia Forson and Chef Steven who also came on the show as guest chef. The two judges had a tough task choosing the winner for the cooking contest.