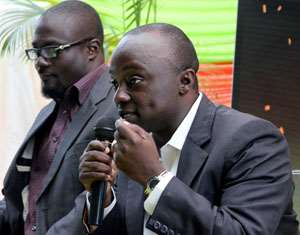 Accra based radio station Y 107.9 FM has launched a unique campaign dubbed 'Rock with Da Vote' to provide the platform for young people to engage political leaders on issues that matter to young voters.
Aimed at building the political power of young people and actively engaging them in the electoral process, this initiative would serve as the voice for the youth to dialogue and interact directly with aspiring political leaders on their initiatives to develop the Ghanaian youth.
The campaign would also actively rally the youth to be front-runners for peaceful elections.
Station Manager of YFM , Nana Kwame Sarpong said: 'As the station with arguably the largest youth listenership, we decided to initiate the 'Rock with Da Vote' campaign because we want to sustain the interests of the youth in the upcoming elections, by providing a unique platform for them to participate in a productive political discourse with political leaders. One significant component of this campaign is to drum home the need for the youth to maintain the peace throughout the election period.'
The Youth Coordinator of the Progressive Peoples' Party, Mr. Divine Nkrumah and a member of the communications team of the party, Mr. Seidu Shamsudeen both commended YFM for the initiative and pledged their support to the realization of the idea towards a peaceful elections.
Mr. Theodore Dzeble, public affairs manager of Centre for Democratic Development (CDD) commended the YFM team for the initiative and encouraged the station to engage with the youth at the grassroots.
The on-air campaign would include innovative activities such as 'From the Mall to the Castle, Youth Dialogue.'