Hollywood May Not Chase Majid Michel And Nadia Buari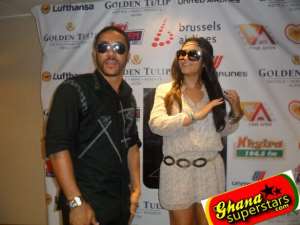 Majid Michel and Nadia Buari are amongst the finest actors and actress we have in our movie industry. Though no fault of theirs, the natural make up of Majid and Nadia might set them back from realizing Hollywood as it is the dream of most of our actors and actress.
It must be noted that a Hollywood movie maker will come to Africa to cast an African actor or actress because that film maker can't portray an African character in a movie with an African-American. Africans and African-Americans are different in many wise. Follow my analysis of Majid and Nadia.
BODY FEATURES: Africans by nature have flat nose and thick lips. Westerners have pointed nose and smaller lips. Because of the nose factor, westerners start kissing with lips sideways while Africans kisse with lips frontal. Majid and Nadia have pointed nose and smaller lips, making them look more western than African. In this sense, if a Hollywood movie maker cast Majid or Nadia for a movie, their kissing alone will betray the kissing orientation between westerners and Africa. If you like, refer to all Majid and Nadia movies, they both start kissing with lips sideways. Again, African women have "enough buttocks to show for. Western women have smaller or flatter buttocks. Nadia as we all know is very economical with her buttocks so if a Hollywood movie maker needs a female African woman for a movie, coming for Nadia will be the last resort because female characters with economical buttocks abound in numbers in Hollywood. Again, African men are naturally muscular, broader and stout. Western men are mostly flat and have rounded body structure/framework. Majid looks like a typical western man-flat and rounded body framework.
COMPLEXION/SKIN: One of the reasons why a Hollywood movie maker will come to Africa to cast a character for a movie is the skin factor. Hollywood movie makers will rarely cast an African-American for a movie by portraying that African-American as an African character. It may have happened before but it's rare. Because, African-Americans have what we call shinny or bright dark skin while Africans have what we call dirty (not dirty as in filthy) dark skin. Majid and Nadia as we all know are both fair. Indeed, Nadia is gradually turning into white. The African identity is taken off! Apart from the complexion, skin-texture-wise, westerners have lighter and tender skin. Without touching to feel Majid or Nadia's skin, one can tell from afar their skins are tender and light. Africans have thick and tough skin texture. Am sure that is one of the reasons why indelible productions chose Prince David Osei for their movie-THE DEAD.
ACTING: Acting-wise, Majid and Nadia are good when it comes to acting. Unfortunately, they act like westerners. By natural selection, African's act at a calm-pace. That is why we produce more drama genre movies to action, adventure and horror movies produced by most Hollywood film makers. For instance, if Nadia acts as a wife in a movie, I don't see her as an African woman. In the same vein, if Majid acts as a husband in a movie, I don't see that African man in him. Majid and Nadia's acting astuteness would be befitting for action-thriller movies but the fact is; such characters abound in Hollywood in numbers.
ACCENT: Accent-wise, a Hollywood movie maker will come to Africa and cast an African because of our thick African accent embellished with strong localizers such as Yoo! Eeem! Eei! Unfortunately, Nadia has a strong western accent. Many have even doubted and contested her accent on numerous mediums. Majid on the other hand does not use LAFA (locally acquired foreign accent) but his speaking manner still takes away his African identity. Many a time when I watch Majid in movies especially when he shouts or speaks harshly, I feel like am watching Sylvester Stallone or Arnold Schwarzenegger or one of those action or adventurous Hollywood actors. No wonder he calls himself the Al Pacino of Ghana. Majid and Nadia's accent and speaking manners would fit into a Hollywood movie but the point is; such characters abound in numbers in Hollywood so hardly will a Hollywood movie maker come for Majid and Nadia.
Despite the above analysis, Majid and Nadia are blunt circle actor and actress respectively. Majid is magical with his game and Nadia is well-nigh perfection. My only fear is if their dream of aspiring to Hollywood to mark the peak of their acting career will be achieved easily like the way David Dontoh have made it. If you have any counter- reasons to my analysis, please let's continue the dissection. Until then…..MOTWUM!! email [email protected] for more
Www.GhanaSuperStars.Com