AUGUST WORSHIP COMES TO ALIVE CHAPEL THIS SUNDAY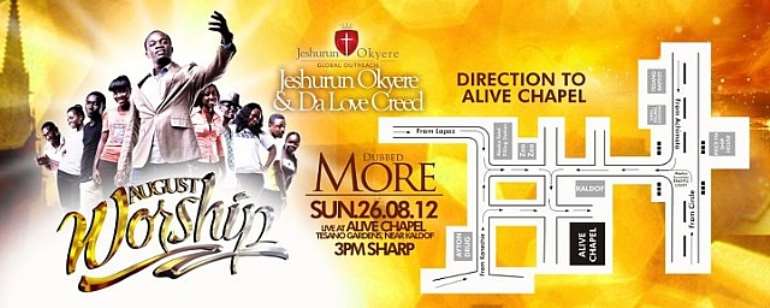 Alive Chapel inside Tesano will be the place of worship this Sunday as Jeshurum Okyere and friends hosts the biggest August praise dubbed: August WORSHIP on the 25th of August, this Sunday and time is 3pm sharp.
The event which seeks to bring Christians closer to God in this month, also feature artistes such as Pastor Joe Becham, Joe Mettle and many other seasonal worship leaders.
The experience will not be the same, probably one has gone to a lot of worship events but August worship is different. There are more activities packed and lined up that will catch the attention of many worshippers, Jeshurum disclosed.
He added that the event's sub theme is MORE hence all the singers or worship leaders on bill to help us touch the favor of the Lord will throw more worship unto the heavens and hope will be restored.
He maintained: we will sing and shout until all Jerecho walls are broken in the lives of people, there for as the good book says, he that shall worship me, should worship me in truth and in Spirit, hence August Praise will do just that, we will sing songs of praise and magnify his name, for He deserves it.
One thing that makes August Worship seasonal is the fact that, it is coming in as a starter, especially when the country just mourned the late president and is preparing towards election hence what a way to kick start our journey towards a peaceful election, so August Worship at the Alive Chapel this sunday, it will be a good opportunity to renew your vows with your maker.
In Jeshurum final words, he said, join us at the Alive Chapel inside Tesano this Sunday at 3pm sharp for the biggest worship craze you will forever be grateful you attended, he said: 'for i know the God we serve is mightier than anything in the world and even when his garment is healing so powerfully, just imagine what a good worship will do to your soul.
Remember HE said, if my people do not worship me, i will call non living things to worship and will we living things sit down for non livings things to worship God. Meet us at the August Worship for a life transforming worship experience.
Story: 18newspaper.com/ nanayaw18.com