Kikis – Sound of Music ft Duncan Mighty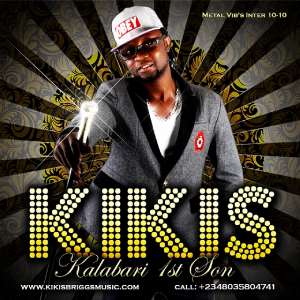 Kikis makes his first appearance here with this mind blowing love song "Sound of Music" featuring Duncan Mighty & he goes well on the chorus & the verse's ,trust me the ladies are going to love this one,sing along while you play & replay.You really don't want to miss out on this one .Download ,share & enjoy
Artiste : Kikis
Song : Sound of Music ft Duncan Mighty
Producer : Jiggy Jeg
DOWNLOAD LINK : http://www.hulkshare.com/5szngum6ghhc
BIOGRAPHY
Tubokikiba Opubo Briggs popularly known as kikis was born into this world of uncertainty on the 24th of march in port-harcourt city Rivers state of nigeria (kiki) this was like a pet name which his father called him from infant as a result of that he became popularly known by his admirers as kikis all around the street of port-harcourt city .
His kind of music is described as ragga hip-hop by combining western and african rhythms in creating a marvelous blend of music for all living standards measure(L.S.M).
Kikis song cut across various age gender and geographical bandries currently making him popular and sought after Artist in Africa and beyond. In 2007 kikis recorded his first song after his youth service in sokoto sabobreni in Nigeria. Kikis released his first commercial single 2008 titled IRIAWOEH Ft Rymzo one of the most famous Reggea Artist in Nigeria and later did the remix with Timaya which gained huge nationwide responds from fans who enjoy rich music. However Kikis is now referred to as the Kalabari First son and in Igbo Land given a title as the Akanakugbo negu 1 of Igbo Land.
This inspired kikis to be a commercial and original Artist of his own kind of music as he grew the fastest fan base in Nigeria. Like he says Nigeria music wouldn\'t be complete without mentioning kikis. Kikis has build a strong social media fan base on face book totaling 25,000 . With his success money and houses cars and fame one would expect him to be arrogant with diva tendencies but yet the handsome and brave young man prefer to be seen as your friend and remain humble. Kikis Briggs has gained huge recorgnition in Nigeria as one of Nigeria\'s A_ list Artists having performed in several having performed in several major concert Nation wide and internationally. Kikis is one whom always believes in his own ideas and also believes that only the test of fire can make a fine steel. Believes more in nature. Kikis believes that God is in him and God answers prayers when or whom he loves to answer prayer. Finally kikis is non religious worships Love.