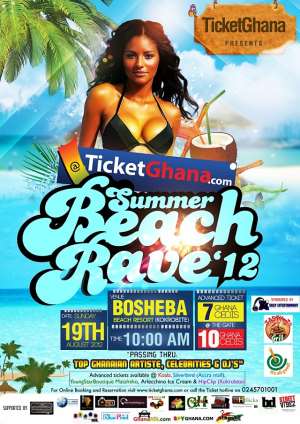 Reports from Major Ticket Outlets show that just after over a week since
the much anticipated First ever "TicketGhana Summer Beach Rave" tickets
were released for sale, patrons have been trooping in daily requesting for
the advanced tickets in multiples. According to Basil Anthony(CEO
Extraordinaire, TicketGhana) if this buying trend continues the advanced
tickets will be exhausted by this coming Friday, and everyone else would
have to wait to pay at the gate entry fee of 10ghc on Sunday.
The Summer Beach Rave is scheduled to be held at BOSHEBA BEACH RESORT in
Kokrobite on Sunday 19th August 2012 from 10AM and is sponsored by Tasty
J's Grill, Its All Good(Smoothies & Slushies) & BluePrint Multimedia and
Printing(Osu Forisco Mall). Activities on the Day will include Beach
Volleyball, Beach Soccer & Air Hockey(powered by iGame Ghana).
Social media Giants "TicketGhana" are very confident that this Summer
Beach Rave will be a road block judging by the way things are going and
the buzz the event has created in town.
The Facebook event page created for the event has seen almost
4,000 confirmed attendance since its creation.
=>> http://www.facebook.com/events/400280683365979/
http://www.dailyguideghana.com/wp-content/uploads/2012/08/TicketGhana-Summer-Beach-Rave-2012-Artwork-22.jpg
The TicketGhana Summer Beach Rave is Supported by Spyghana.com,
Lifestylzgh.com, Konkonsaafrica.com, #GetFamiliar, 24sevengh.com,
SocialGH, BlinkUp,Blueprint District, Clean Monni Entertainment, WorldWide
GH, RadioTribeGH.com, Destination Modeling Agency, Street Vibez,
Ghananie.com, Ghflicks.com, Opeymag.com & Stepoutghana.com
By TicketGhana.com Media
Follow @TicketGhana
Like via www.facebook.com/ticketgh