Viasat1 gets new Breakfast Show - 'This Morning'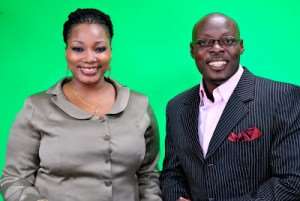 by Chris Twum
Beginning Monday, August 6, 2012, at 7am, Viasat1 brings to its cherished viewers a new breakfast show, 'This Morning'.
'This Morning' is expected to be a thrilling two-hour live programme that airs from Mondays to Thursdays.
The programme will bring to the station's viewers a distinctive content package put together by a fantastic team of producers.
The show is hosted by two experienced broadcasters with great reputation in the industry. Korkui Selormey is a renowned top class opera singer with radio and TV background, while Patrice Amegashie is known for his strength in radio broadcast.
The two personalities combined for 'This Morning', will certainly create an excellent starter to the day.
CEO of Viasat1, Charlotte Gustavsson said, 'We believe the live broadcast of 'This Morning' will bring Viasat1 closer to our viewers and also increase viewer interaction and participation.
Over the past few months, Viasat1 has rolled out programmes that are currently receiving very good feedback and we know our newest kid on the block will receive similar sentiments.'
The first hour of 'This Morning' brings audience up to speed on issues of current affairs and what is happening in Ghana with regard to news, traffic conditions in town, what's trending and more.
Viewers also have the opportunity to get more interactive with the hosts as they are encouraged to send in amateur videos of newsworthy events.
Korkui and Patrice also get to receive live news feed from regional correspondents via Skype and other media for breaking news and updates on running stories.
The second phase is lifestyle and entertainment based. It features a unique theme of the day to create a level of predictability without causing format fatigue.
A resource person will be present each day to walk the hosts and viewers through the show. Viewers would once again get interactive via our social media website (facebook) to ask questions about the topic of the day, which will be addressed by the resource person.
The theme for Mondays is great expectation and it will focus on families and parenting, with three to four segments focusing on different aspects of the theme. This will also include a monthly slot with a financial family planner.
Tuesdays will focus on healthcare, with the theme 'Ask the Doctor'. The approach moves away from traditional, dry and factual treatment of health-related content by using personal experiences and stories of ordinary Ghanaians to explore health information.
Wednesdays are dedicated to domestic affairs. The idea behind this theme is to help our viewers with good housekeeping, happy lifestyle and healthy family relationships.