South African musical to inspire the next generation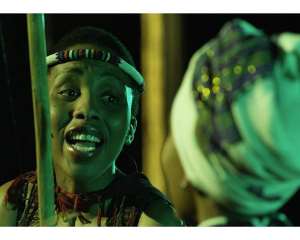 Johannesburg based production company Moments Entertainment is delighted to announce the release of their new and ground breaking African musical – Cry of Love. Starring the legendary South African songbird Yvonne Chaka Chaka and award-winning actress Leleti Khumalo (Sarafina! Yesterday) this film is unique, the first of its kind: one part Ubuntu and one part Fame.
Cry of Love is carving itself an exciting and successful niche combining a gripping narrative, with music and contemporary human rights issues. Mesmerizing from start to finish the musical takes the viewer straight to the heart of social turmoil that Africa continues to face today.
This film uses an enchanting mix of modern and traditional African song, dance, drums and jazz that have been brought from across the continent. It is set against the vibrant cosmopolitan backdrop of Johannesburg, and follows the lives of young and talented teens who explore their musical gifts in a fictitious school named the African Performing Arts Centre. Despite their differences each character finds solace in 'The Santuary'; a place of common ground, where people are united through music and the celebration of their 'Ubuntu'- the African expression of 'I live through you'.
'The Sanctuary' changed the lives of those who attended. Characters such as Ice, a man caught up in a life of gangs and criminal activity, was transformed as he saw the impact it was making to the community and young people. His passion for the Centre meant that he reformed from a misguided and aggressive bully, to a brave man who turned his back on his gang to defend the important work 'The Sanctuary' was undertaking.
The film has already been a big hit with young audiences at both Durban and Zanzibar International Film Festivals, and is due to be incorporated into an educational resource and used in workshops held in schools and universities across Africa, the UK and US. Executive Producer, Firdoze Bulbulia says, "Cry of Love is an African film for an international audience, very much in the vein of Fame the Musical. However, the script touches on issues faced by many young Africans today – xenophobia, child soldiers, HIV/AIDs, female genital mutilation and marriage by abduction. The film celebrates the African notion of Ubuntu and uses the arts and entertainment to offer an alternative for young people so that they sow the seeds of love and not hatred. We want this film to resonate with young people everywhere so that they can build healthy, happy and fulfilling lives''.
The UK based company Aya Distribution will be assisting with building this film into an educational resource to use in schools throughout the UK. Project Director, Justine Atkinson says, ''From the moment we watched Cry of Love we were moved and inspired by the stories it portrays. We believe that through music this film has the ability to cut through culture and reach straight to the heart of the viewer. We therefore see the potential for it to bring people together, and facilitate a dialogue between the youth of today about identity, race, culture and community cohesion. This is something that young people from every part of the world can relate to in some way''.
Using the transformative power of music, Cry of Love addresses notions of diversity, identity, and many sensitive issues facing young people today. It is a heartfelt film for audiences everywhere, sending an uplifting message, reminding us all of the joys and hopes of youth.
Or follow us on Facebook at: https://www.facebook.com/pages/Cry-of-Love/361276453910432.