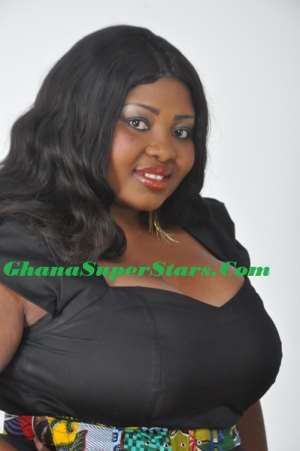 In fulfillment of our editorial policy of conducting polls to uncover budding talents in quality digital productions, GhanaSuperStars.Com's satellite fell on THE 5 BRIDES, a television series produced by the most prestigious film maker in Ghana, Venus film production and airs on Ghana's most watched private television station, VIASAT 1.
Hitting the streets of Accra and asking fans reactions towards the series, their response was monolithically positive. They love watching the series. GhanaSuperStars.Com probed to know what actually fascinates them to watch the series. To our surprise, majority of them revealed that aside the intriguing storyline, shrewd plotting matched with the finest pictures, one female character, Belinda Sefakor Dzata, is the main character whose act enslaves them to watch THE 5 BRIDES.
Belinda Sefakor Dzata plays the role of a maid servant in an aristocratic family. Her chubby personality, elephantine breast, contagious smiles, gluttonous manners and secret love affair with the male servant in the house, adds drama and evokes laughable catharsis to the series, THE 5 BRIDES.
THE 5 BRIDES, tells the story of five young married women, and the unique problems that characterize their marriage lives. Their lives revolve around the joys and angers of love, betrayal, deceit and what goes on in a typical Ghanaian marriage or love setting. The story also touches on controversies, innocence and issues relating to parenting. It shows every Monday at 8:00pm.
Belinda Sefakor Dzata is indeed a promising actress. Stick and stay because GhanaSuperStars.Com will surely get up close with her so that YOU can know more about her. But come to think of it, what do you have to say about her last name "DZATA", which means LION in the Ga dialect. Will you ever name your child after a LION?
Story:GhanaSuperStars.Com