Vodafone Makes 3D Commitment to Music in Ghana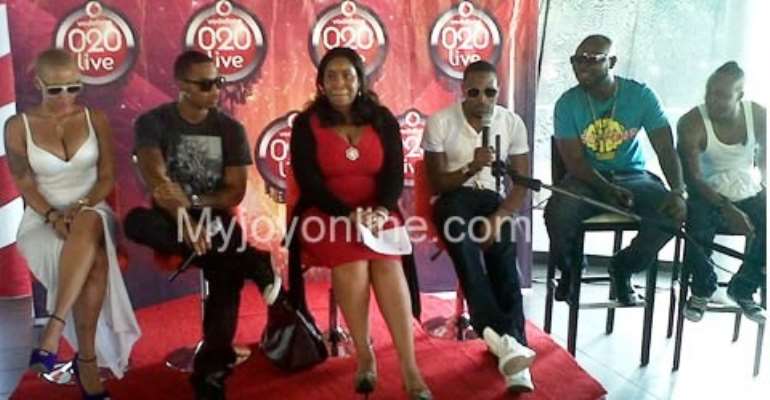 Vodafone Ghana Chief Marketing Officer, Uche Ofodile says Vodafone's commitment to the development of music in Ghana is three dimensional; the grooming, the experience and the reward for excellence.
In an exclusive interview with Adom News Editor Nii Narku Dowuona, Uche Ofodile said she personally loves to create her own branding space and excite every segment of her customers in extraordinary ways, adding that in Ghana, Vodafone has identify music as one such special space.
"That is why we have put a great deal of our marketing budget into music at the grooming level, the experience and recently at the level of rewarding excellence in music," she said.
Uche Ofodile explained that Vodafone ICONS is the grooming part, where Vodafone discovers and grooms musical talents and gives them the opportunity and push to stardom; 020 Live is the experience part, where Vodafone excites Ghanaians with some of the best world class local and international artistes; and the Vodafone Ghana Music Awards is the part where the company rewards excellence in music.
So far Vodafone had held two editions of the Vodafone ICONS: the Diva Edition and the Mixed Edition; and has also held two editions of the 020 Live; one with Nigerian twin duo PSquare was the lead act, and the second with Trey Songs and Dbanj as the lead acts, and Amber Rose as the MC.
Vodafone recently took over the Ghana Music Awards from rival MTN and rebranded it Vodafone Ghana Music Awards (VGMA), with the maiden edition showing some amount of additional features and improvement in aspects of previous editions.
MTN owned the flagship music awards in Ghana for 10years and helped to develop it to the standard where big brands like Vodafone would be interested in buying into it.
The Vodafone Ghana CMO said Vodafone's target is to own the GMAs long-term and run it in a way that everybody would forget who used to own it and only remember the extraordinary experience it offers.
"We thought that Ghana Music Awards was strategically important for our quest to own the music space and develop the industry - my deal with my team was that if we are going to take it we need to raise it to the level where it meets our brand expectations and also provides extraordinary experience for our customers," she said.
Uche added: "The feedback we got from post event research shows that even after the first one we have achieved that and now we own it and in a couple of years no one would talk about who used to own it – we are taking full ownership of it – we did that in year and we will continue to do it in the next couple of year."
When asked how long Vodafone intends to own it, Uche said "I can't imagine that we would have put this level of investment just to do it for two years so the ambition is to have a very long-term relationship with Charterhouse and the GMA because we have invested a lot in music and we do not intend to turn back now," she said.
Uche however stopped short of saying what kind of investment Vodafone has made in Ghana's music industry over the past three years.
Vodafone has been in Ghana since 2008 upon acquiring 70% shares in national career, Ghana Telecom. The company has since risen from third largest operator with about 1.7 million subscribers in 2008, to now become the second largest operator with almost 4.7 million as at May 2012.
Story by Ghana/Samuel Nii Narku Dowuona/Adom News