Papa Shee: I Prayed For Lord Kenya And Ofori Amponsah To Repent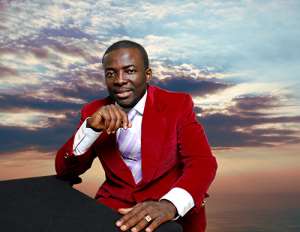 Wondering why some of Ghana's finest circular musicians like Lord Kenya, and Ofori Amponsah are abandoning their music books for the bible instead ? Well, according to Papa Shee, arguably one of the most popular musician to have done highlife in Ghana, the reason triggering these exodus are his prayers.
Now based in Maryland, USA as a pastor, Papa Shee who was well noted for his widely circulated 'Atadwe, and Koyonso' tracks back in the late 90's claims it is due to his prayers that most Ghanaian musicians are now opting for the pulpit and therefore wants legends like Daddy Lumba and Kojo Antwi to follow soon.
Speaking to VibeGhana.com in an exclusive interview, the former highlife king revealed that he got his breakthrough to become a man of God back in 2000 when he performed in front of a packed crowed who had congregated at the then Accra Sport Stadium for the opening ceremony of the African Cup of Nations.
He explained that upon realizing the huge number of people in the stadium, it dawned on him to channel his energies into the winning of souls for Christ and has never looked back since then.
The onetime African Performer Award winner in Manhattan, New York noted that he prayed for more musicians to also see the light and for now his topmost priority is to see high profile legends in the music industry like Kojo Antwi, Daddy Lumba, Obrafour, Kontehene, and Nana Kwame to also substitute the music stage with church.
To him, the time has come for these musicians who can boast of large followers to try and draw their numerous fans to God just as they get these fans glued to their music albums.
Papa Shee, whose real name is Nana Yaw Akosah prophesised that though it is not going to be an easy task, record hit makers like Kojo Antwi and Daddy Lumba, can be made more powerful by God if they turn their lives over to him.
He admitted that it is not an easy adventure to embark on considering the fame and calibre of temptations that abounds in the music industry but it is worthy.
Using himself as an example, the singer turned preacher indicated that some Ghanaian musicians find it difficult to quit the music scene due to because of the accessibility of sexy girls who are likely to throw themselves at the musicians for the sake of stardom.
He recounted the number of times he received calls from some of these desperate ladies who were willing to do anything to get in touch due to his fame but not withstanding this,Papa Shee reiterated his stance that 'God can make Dady Lumba, Kojo Antwi and other musicians more powerful if they quit doing music'.
When asked by VibeGhana.com if these musicians can still stick to their profession and yet spread the gospel through their music?, Papa Shee answered affirmatively but indicated that 'not when you are doing, hiplife or highlife' since the only way to sell as a circular musician is to talk about sex and profanity.
''If you do hiplife or highlife and you don't talk about this things your music don't sell" He stressed.