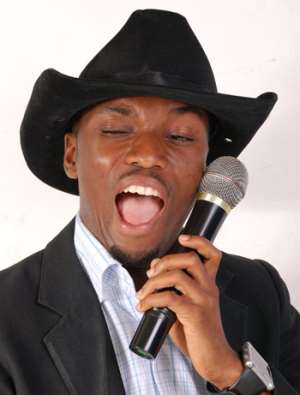 Actor, David Oscar is a familiar face on Ghanaian television and is perhaps best known as the funny man anchor of the Viasat 1 show, Laugh-a-Minute. Indeed, Oscar is one of the leading talents in both stand up comedy and comic acting in the country today. He accepts that he has been somewhat typecast but says comedy was something that he actually stumbled into by chance. Although he feels very much at home in the genre he is anxious not to be limited by it. He is gradually gaining recognition as a dramatic actor, particularly through vehicles such as the TV3 series, Peep. However, David is more than just an actor; he is also a radio presenter, an event host and a creative consultant.
I met David one afternoon at the studios of XFM in Accra where he spoke candidly about his career to date. He told me that he did not plan any type of a career in entertainment to start off with. At Pope John Secondary School, Koforidua, he majored in visual arts but says he grew tired of it. After completing high school the natural progression should have been to go onto KNUST but he was adamant that he no longer wished to pursue the visual arts any further. He ended up taking a year out deciding what to do next. "I was confused," he says. Around the same time there was a series on television called, Things We Do for Love. David says the show had an impact on him and he was inspired by the acts of Pusher and Majid whom he held as role models. He says that as he watched the show he told himself, "I can do this." He confesses that the only acting experience he had had prior to that was a few church performances; nonetheless, a spark had been ignited. It wasn't long before he found himself applying and being accepted by the School of Performing Arts at the University of Ghana, Legon.
During his time at the University, the Association of Students of Performing Arts held an annual pageant in which they sought to crown a king and queen 'ASPA'. David entered and ran for the King title. He didn't win the contest but the experience was pivotal in his career since it exposed him to the art of comedy. While other contestants performed a customary poetry recital or musical piece for their entry David opted to do something a bit different. He decided to tell jokes and from that he discovered his gift for comedy.
The next opportunity arose through a search to discover budding young comedians sponsored by Charter House in their first ever edition of the reality show, Stars of the Future. This was vital exposure for David at a time when comedy was not such a popular genre in Ghana and was dominated by only a few big names such as Basket Mouth, Okey Bakassi and KSM. There were no young names that were big in the genre until David entered along with other new acts such as Foster, Kojo Addison and others who have since become the faces of Ghanaian comedy today.
The slapstick antics associated with David Oscar are very much an act reserved for public performance. Indeed, fans might be thrown by the astute, articulate and serious character that is the man in real life. He manages his own career and handles his own contracts. "It would be nice to have an agent," he observes but is dubious as to how many real agents actually exist in Ghana. "If you look at what agents are supposed to do for artists compared to the attitude of agents here, there is a big difference. Here an agent will say 'when someone calls you for an interview or audition, let him call me.' That is not management," he says and believes he is better off without it.
David is someone who is able to analyse issues affecting the industry he works in with depth and clarity. He believes that the Ghanaian entertainments industry still does not have enough structures in place to support talented artists. "If you are a creative person, how do you make money from your creativity," he questions. "I wonder how musicians make money after they pay the cost of studio hire and of filming videos and pay TV and radio stations to put their music on the air and all the other expenses from their own pockets. And if they don't get a hit out of the song, then their investment is all but wasted. Even those who do actually break through in Ghana, how much are they really worth? They say D'Banj in Nigeria has bought a private jet. How many Ghanaian artists have bought jets," David quips half jokingly, half seriously. "I hope that the industry will grow so that when an artist gets a gig, he or she is well paid. All too often, people want free jobs. They expect me to do what I do for a living freely. That is why I haven't MC'd a wedding reception for a long time because people don't understand when I need to charge them." David recognises the wider circumstances that affect his experiences. "In the end it is all about the condition as a whole. How much is anyone here really making to be able to afford the services of professional people and be able to pay them properly? Ghana as a nation must be able to maintain a stable political atmosphere so that the economy and the livelihoods of all Ghanaians can grow," he says.
The work of David Oscar appeals to a cross section of young and old persons alike and from all walks of life. Particularly to those who are able to "decode my content and reason at my level," he says. He is gaining recognition from beyond the borders of Ghana too. People in America were introduced to him through his role in the Shirley Frimpong-Manso production, A Sting in a Tale. Also, Laugh-a-Minute has taken his talents to other audiences. When he visited Kenya to perform on the M-Net Comedy Series, he was surprised to find that Kenyans recognised him from the Viasat 1 show as it had aired there via satellite for some time.
David is dedicated to all aspects of his career. "I am multifaceted," he asserts. He says he is serious in his corporate work and has a serious passion for entertainment too. He hopes to be known for his full range of talents and capabilities. "I love comedy but I studied to be an actor not a comedian. Through my work on Peep, people are seeing me in a different role." Presently, much of his energies are directed to the weekend radio show he is doing on XFM. He is working to get the show aired beyond Accra via partner radio stations in other parts of the country.
David says he can only advise anyone coming to the entertainments industry from his own perspective. "I don't presume that it is only education that can make a person and people do get into this business through various means but I got into it through schooling. I trained to be an actor and so if I am to offer advice I can only suggest that people follow the same path that I took. You can start with a talent but that on its own is not enough. You must be able to develop a skill, polish it and add some education to it. That will open you up to better opportunities," he says.
On his personal life, "I am not married, at all," David states emphatically. Indeed it was the one subject that brought out the real humorous side of him that audiences are most familiar. "It is not a question of how many women I have but how many women presume to have me," he jokes. "There are ladies out there who will point at me and say 'that's my boyfriend' but actually I am a single man. I am hoping to do that when I make enough money. I need to be self sufficient before I can say I can support some person's daughter." He finished by quoting a Ghanaian proverb. Odo en ye sika e ye ntiase - Love is not money it is understanding. "But I can tell you, for sure, that in Ghana, love is definitely money," David laughs.
Oyaba Osei