Prince David Osei Congratulates Yvonne Nelson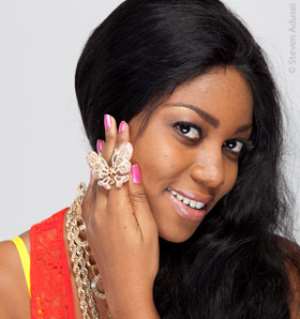 Yvonne Nelson displaying her continental award
Popular Ghanaian actor Prince David Osei has congratulated actress Yvonne Nelson on her award as the Face of Ghana, best actress in the United States of America.
'Congratulations to Yvonne Nelson for winning the award. Proud of you sister, God richly bless you.' 
Earlier on, he also used his blackberry status to celebrate the actress.
The beautiful actress was on Sunday evening honoured at a red carpet event at the 15 th edition of the 5-Continent Academy Awards in New York.
She was acknowledged among other top African Americans as the Face of Ghana, best actress 2011/2012.
She was honoured for her impact on the world via her exploits in movies within the year 2011/2012.
Organizers said Yvonne's films were quite popular in the US and she was seen and acknowledged as not just an acting figure but someone who represented values of hard work and dedication.
It was her first award from the academy.
Nelson returned to Ghana yesterday and is expected to travel to Nigeria tomorrow for a production.
Prince David also defended the actress over unfortunate media articles about photos of herself in New York which she posted on Facebook. Prior to that, David had broadcasted the same story because he was misled by the headline.
'What is wrong with you people? When you see that someone is blessed can't you see? Why do you hate and rubbish Yvonne Nelson's hard earned reputation. It's high time we grow up from this sully and sordid act; let's learn to appreciate. Yvonne Nelson and other loyal fans on bb I'm dreadfully sorry for circulating this rubbish. I was carried away by the headline; didn't read because I was driving. Whoever is behind this, let us condemn this heinous act. Yvonne Nelson you are blessed period,' David broadcast on blackberry.
  By Francis Addo