I'M IN LOVE WITH BOMAYE-Blay is Evicted leaving Promzy shocked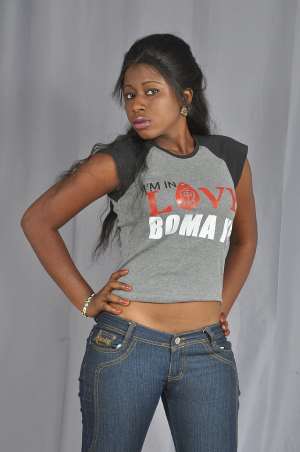 So it was Blay who went down after a rather eventful week. Whilst it's not surprising, some wished it was Gifty who left. Of course when the news came in; it was Promzy who was hit the hardest. Her only true confidant and sidekick is leaving the house leaving here to rest with the 'wolves' on her own. Bomaye had to call her back to witness the whole event to the end as she sprung out of her seat when Blay walked away from the group to go and get packed to leave the house.
Favour had survived and received an icing on the cake when her daughter was brought to the house to surprise here on her birthday. It was the perfect time for Bomaye to test his dad skills and he seemed to have done a good Job as Favour admitted that he will make a good father or should I say step-dad. Not many knew that favour had a daughter named faith – but now that it's out in the open, we shall see whether she can affect her chances with the king in anyway.
Princy still had the "sulk face" she's been wearing for two days since she decided she was not going to talk to the king. But she said it doesn't mean that she doesn't still love him- obviously couples do fight but Princy will do well to remember that they are not a couple yet- in fact she doesn't seem to be the likely person to win this whole thing even though it is evident she is working hard for it. Perhaps it is her way of psyching herself up and building her confidence.
Gifty on her part has been tasked to improve her connection with the king for the week. It was a bit mind bugling when he kissed her as he hugged her, perhaps his way of saying 'you are staying'. Is Bomaye harboring some major feelings for her? That may surprise many but after everything that has gone down in the house, anything is possible.
Blay looked incredibly beautiful as she sat in the interviewers' chair thanking the organizers for the opportunity to participate in the show. She seemed to have enjoyed her self and she must certainly be congratulated for coming this far. When she was asked if she had a boy friend, there was "the hesitation" and "the no". Next week though we get the chance to vote one of the evictees back into the house. Who will it be? Go grab your MultiTV Digibox and catch the entertaining action Live on Real TV and Cine Afrik.