Adele and One Direction prop up US album sales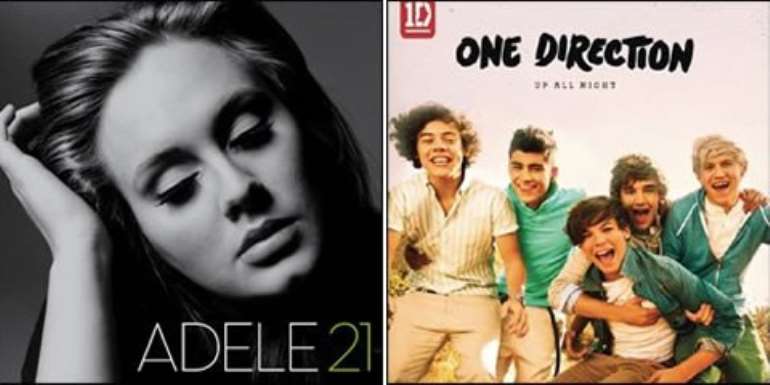 Adele and One Direction have helped stem the decline in US album sales, which dropped just 0.6% in the first six months of 2012.
Adele's 21 is the best-selling album of the year to date, selling 3.7 million copies, while a further 539,000 people bought her first album, 19.
Boy band One Direction take third place in the chart, shifting 899,000 copies of their debut, Up All Night.
In total, 220 million albums have been sold this year, analysts Nielsen said.
Overall, the US music market continued the recovery that began last year.
Total music sales - including singles, albums, music videos and digital tracks - stand at 853 million, up from 820 million in 2011.
Digital sales from stores like iTunes and Amazon have largely been responsible for reversing a slump that has affected the industry since 2004.
Sales of digital albums were up 13.8%, to 57 million, offsetting a continued decline in physical album sales, which dropped 3% from 155 million to 150 million.
Vinyl is also experiencing a resurgence, with 2.2 million albums sold so far this year (up from 1.9 million in 2011).
The most popular vinyl release was Jack White's first solo album, Blunderbuss, which does not feature at all in the main best-sellers list.
However, CD is still the dominant format - responsible for 91 million sales, or 61% of the album market.
According to Nielsen, the top 10 best-selling albums are:
Adele - 21 (3,668,000)
Lionel Richie - Tuskegee (912,000)
One Direction - Up All Night (899,000)
Whitney Houston - Greatest Hits (818,000)
Various Artists - Now 41 (714,000)
Carrie Underwood - Blown Away (602,000)
Luke Bryan - Tailgates and Tan lines (575,000)
Nicki Minaj - Pink Friday: Roman Reloaded (557,000)
Drake - Take Care (549,000)
Adele - 19 (539,000)
The singles chart saw major sales for Australia's Gotye, who became the first singer to sell more than 5m downloads in under six months:
Gotye - Somebody That I Used To Know (5,501,000)
Fun. ft Janelle Monae - We Are Young (5,087,000)
Carly Rae Jepsen - Call Me Maybe (4,064,000)
Kelly Clarkson - Stronger (3,324,000)
Nicki Minaj - Starships (3,158,000)
Maroon 5 ft Wiz Khalifa - Payphone (3,075,000)
The Wanted - Glad You Came (2,892,000)
One Direction - What Makes You Beautiful (2,885,000)
Flo Rida ft Sia - Wild Ones (2,790,000)
Justin Bieber - Boyfriend (2,599,000)
"Sales trended well in the first half of the year," said David Bakula from Nielsen Soundscan.
"While retail sales continue to face challenges related to broader market trends, digital sales gains are expected to achieve another record-breaking year."
Adele's 21 was also the most successful album of 2011 in the US, shifting 5.82 million copies - the highest 12-month sales figure since Usher's Confessions sold 8m copies in 2004.
Before the advent of Napster and other illegal download services, America's most popular albums rarely dropped below the five million figure.
In 1999 and 2000, the Backstreet Boys and 'NSync managed to sell in excess of nine million copies of their albums.