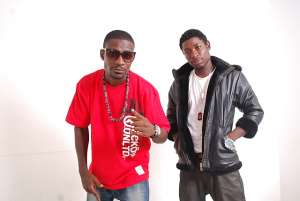 MUSIC DUET Nubian Stunnaz, represented by Jay Mettler (Joshua Mettle) and Kwame Species (Arthur Swatson) is out with yet another banger 'Pumpapa' after a successful hit song 'So noor' with Richie of Lynx Entertainment fame early last year.
The duo has such songs as 'Tumtum' ft Kwabena Kwabena, Okyeame Kwame and She, 'Successful' ft Sherifa Gunu and Kesse, 'So involved' ft Wutah Kobby, 'Give it out' ft Asem, a few to mention.
The track 'Pumpapa' talks about a lady who is wanted by all the guys in the neighborhood and a guy opts out to fight very hard to win her heart no matter the circumstance. Also it was inculcated from the rhythm made by fufu pestle makers as they hit the stick on the stone for a remake.
Advertisement
In an interview with The Heritage, the duo noted that in a positive way, the song is to motivate "as in life everybody has got a dream, all you need is the courage, zeal and patience to work hard toward your goals so we chose to call your endeavors 'Pumpapa'."
They noted that based on the experience they had after their first single 'So noor', they have fought a good fight to get back on their feet which is the reasons behind their new song.
On their take on groups splitting, Nubian Stunnaz said "we don't blame the groups instead we will point fingers at the media, they add too much flesh and speculations to a simple issue but a group should know that they are embarking on a marriage journey and should not allow anybody or thing come between them. We won't disappoint our fans no matter the circumstance, 'pumpapa'!"