THE KUMKUMCHA BOYS, TINTIN & REDKARD UNDER "MURDER" INVESTIGATION???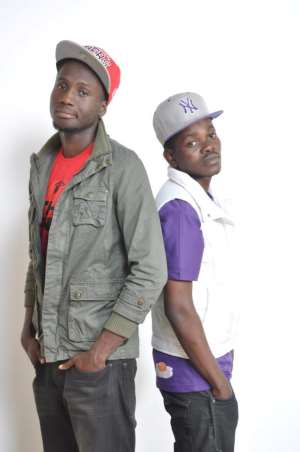 For all typical music loving fans in Ghana, immediately you hear the word or name "KUMKUMCHA" all you do afterwards is to involuntarily nod your head and wait for the music to flow. And when you hear the music and the creativity at work, you will not only applaud but you will ask for more of that. That is the power on which these two talented rappers TINTIN & REDKARD are riding smoothly.
Their first single commercial KUMKUMCHA featuring Atumpan, and few mix tape releases, has not only earn them the remarkable name THE KUMKUMCHA BOYZ; their unique artistry and stagecraft has also earned them a surprise open salute and endorsements from Ghana's music/entertainment connoisseurs like Obrafour, Okyeame Kofi, Bola Ray, Big Ben, Obour, Hammer, Dr. Duncan, Reggie Rockstone, KOD, DJ Flexy, Cedis just to mention a few. They are all with one voice trumpeting the good work of this duo"…
A lot have not been said about them lately, because their music is doing all the talking. TINTIN and REDKARD are progressively wining the heart and minds of music enthusiasts in Ghana, Africa and beyond. Their second hit single OBAA PAY is also blast. It is really enjoying massive air play all over. Find time to listen to their tracks or watch their videos on youtube and you will not only join the experts in heaping praises but will thank God for planting such talents in Ghana.
Some few moments with the duo revealed that though they are pure rappers, they are very versatile and can join in a lot of music genres. REDKARD stressed that "we're very flexible with a lot of music genres…our trick is to pull up surprises and that has kept us going…"
One thing that also demonstrates the creativity embedded in them is the revelation of the name TINTIN. Is not just a name, there is more to that (Turn It New To Impress Nations) TINTIN also added his voice saying "… We've been in the music business since we were at our very tender ages…and all that we're working hard on is to unite some 'chosen' conscious music skills across as key to re-awaken the African spirit that the lot are yet to know…"
Interestingly the rumors making rounds recently are that, some well-known and bestselling Ghanaian artistes are advising their co-equals to be chary of making any song with THE KUMKUMCHA BOYZ since they(other artistes) stand very little chance of not being "murdered" for want of a better word be consumed by these "rap gods". But, funny enough some notable artistes have also turned a deaf ear to these claims because they want to re-write history with this giant duo…
There is almost always this peculiar atmosphere of optimism surrounding this KUMKUMCHA BOYZ no matter how many times you meet them. I foresee the birth of something new, somewhat beyond what we've all known to be the best of [rap] music. TINTIN and REDKARD have indeed come to stay!!!
Adjei Kwame