Russell Brand discusses the Dalai Lama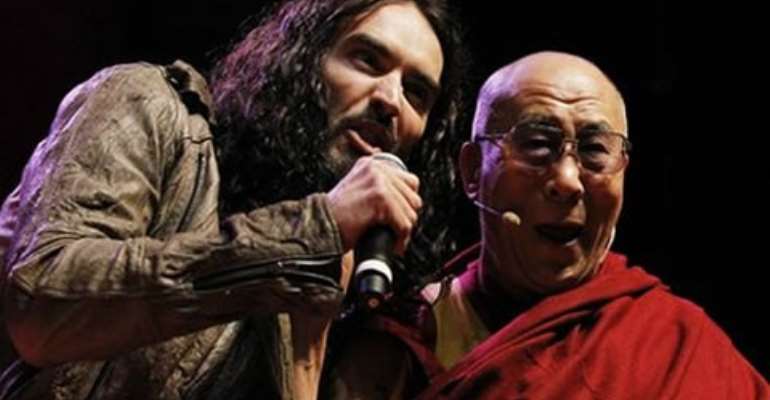 Comedian Russell Brand has shared a stage with the Dalai Lama in front of a crowd of young people in Manchester.
Brand, known for his bawdy humour, introduced the Tibetan spiritual leader and hosted a question and answer session at Manchester Arena.
The Dalai Lama's representatives said they chose Brand because he had proved "the power of spirituality to effect change in his own life".
The event was intended to spread a message of "non-violence and dialogue".
The exiled spiritual leader has led a lifelong campaign for the rights of Tibetan people. But the Chinese government accuses him of trying to split Tibet from the rest of China.
Brand spoke to the BBC before the event about his involvement with Dalai Lama.
How did you get involved with the Dalai Lama?
Russell Brand: "The Dalai Lama's people approached me and said, 'Do you want to do this event with the Dalai Lama?'
"And, amazingly, I said yes because he's the living incarnation of Buddha and I thought, if you're around the Dalai Lama, that can only be good for your spiritual quest through life. He's an amazing diplomat, an incredible activist, a wonderful human being and an inspiration to us all."
The pairing has raised a few eyebrows.
"Yes, eyebrows have shot through the roof. Some people can't tell their eyebrows from their hairline any more. Some peoples' eyebrows are on the ceiling."
Are you a Buddhist?
"No, I don't have any kind of theology or religion yet, I'm just learning all about it."
I gather that you practise meditation.
"I do transcendental meditation, which is, I suppose, derived from Vedic or Ayurvedic principles, which is sort of Hindu principles. I also do a lot of Kundalini yoga.
"Them things, they take you there. You know how, if you tuned your radio in, you could listen to Capital Gold or Classic Gold? There are other aspects of consciousness that you can tune yourself into. These new ones I'm listening to are mental."
What do those things give you?
"A sense that you shouldn't worry too much about material things, about what everyone thinks of you, that we're all one - and to be beautiful to one another."
Did you discover them when you were trying to clean your life up?
"Yeah, I think I was steadily heading towards it. All of us have got it in us and we're all heading towards it in one way or another.
"Then different things happen that take you in that direction - because you start to realise that all other forms of happiness are temporary, conditional, transient, illusory forms of happiness. Sexy happiness, druggy happiness, new jacket happiness."
Are you worried that your reputation for wild and outrageous behaviour will be dented if people think you are serious and spiritual?
"I don't mind having a reputation as a serious and spiritual person. I think that would be a nice reputation to have.
"I enjoyed having a reputation as being wild, but these days I try not to worry about what people think in the privacy of their own brain or what they write in the bizarre publicity of their own newspapers, because all of those things are meaningless."
US movie studios are very keen to break into China - is this going to have an impact on your career in films if China takes exception to your involvement with the Dalai Lama?
"You've raised a point that I'd not previously considered. I suppose one has to ultimately think, what's more important, the freedom of a nation or the career of one person?
"And I suppose, really, the freedom of a nation in most people's minds would be more important. And I'm sure I'll be all right with the old acting jobs for film studios. They're just human beings as well. They want what's right deep down. I know people who run film studios.
"I think they would want me to be on a spiritual mission in the end. What's going to happen when all civilisation collapses? We'll be baffled if we've got no spiritual structure to step into, so we've got to work on it."