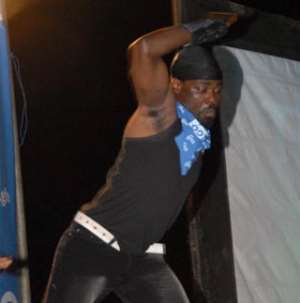 Ghana's 2001 best dance champion, Edward Akuffo Bampoe-Addo aka Paa T, is set to make waves in the francophone music market.
The dance champion, who has also moved into the music industry, following in the footsteps of dance icons like Slim Buster, is about to move his music talent to the shores of the francophone countries.
According to him, his songs and professional performances were accepted more in the francophone scene than most of the Anglophone countries.
His current hit track titled ' African Dancer Number One', which is on the album titled ' Momo' , which has so far enjoyed massive airplay on major radio and television stations, is making inroads into the francophone market.
His title track, ' Number One' is sang mainly in French, Yoruba and English, having featured Nigerian song-star Joe B who performed a beautiful rap rendition in Yoruba and King Palmer of Ghana who also sang the Ga part of the song.
After winning the 2001 dance championship organized by Media Whizz Kidz, Paa Tee has since featured in many productions and also in many adverts where he has always portrayed the character of a hilarious dancer.
In 2010, he won the ECRAG Free Stye Dancer . According to him, he was currently pushing his skills into the francophone market to make his works known there too.
He hinted that come July 2012, he would be performing with some Ghanaian artistes in Paris, France, to both his Ghanaian and French fans there.
The event, which is being organized by Kofi Okoto Productions and RAM Media Concepts, is expected to give first class Ghanaian entertainment to Ghanaian residents and lovers of African music in France.
When contacted, the CEO/Event Coordinator of Kofi Okoto Productions, Augustine Mark, confirmed the schedule of the concert in Paris. He hinted that other artistes such as Screw Faze, King Ayisoba and Eduwodzi had also been billed for the July 14 2012 event.
Paa T, as he is popularly known, has performed on various international platforms in Europe. His last performance was at an international trade fair in Madrid, where he performed with Mr. Bean on various platforms to entertain the audience. Locally, he has given a lot of dance lessons and was even instrumental in the Google Dance in Ghana.