JJ Bunny Finally Caught With Her Bentley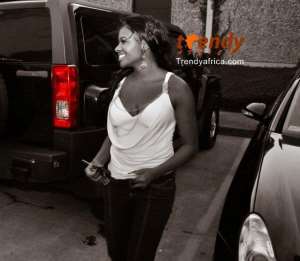 JJ Bunny and her cars
Several people doubted reports that beautiful actress JJ Bunny owns two luxurious cars, Bentley and Hummer H3, that she had abandoned in the United State of America to pursue a movie career in Africa for the last 6 months.
NEWS-ONE has managed to get some photographs of the beautiful lady cruising in the car.
On Monday, NEWS-ONE reported that JJ and her family were working on plans to ship the cars down for her in Ghana.
But close sources told NEWS-ONE the actress was not happy that info about her luxurious cars hit the newsstands and was therefore finding new ways to swerve the newspaper reports.
JJ came to Africa last November to join Abdul Salam's Venus Films to shoot a movie in Gambia. After that production, she moved to Ghana in December. Since then, she has refused to return to her Houston home in the US because of movies. She has been staying in a hotel since then.
Currently, she is rated as one of the hottest actresses and is receiving many movie scripts from both Nigeria and Ghana.
JJ Bunny has lived in Houston all her life and is described as a Nollywood/USA A-List actress. She is also a recording artiste and a filmmaker who acted in her first feature film titled 'Caged' in 2009.
She has successfully transcended into Nollywood and now Ghana's film industry. She is now one of the most sought-after actresses in the industry. Among her movie credits are 'The Governor's Gift' featuring Jim Iyke and Tonto Dike; 'Caged' starring Desmond Eliot; 'This is Houston' featuring Ini Edo; 'The Bed', 'Paparazzi' with Van Vicker; 'X-Class' starring John Dumelo; and 'The Other Side of Love' with Ramsey Nouah.