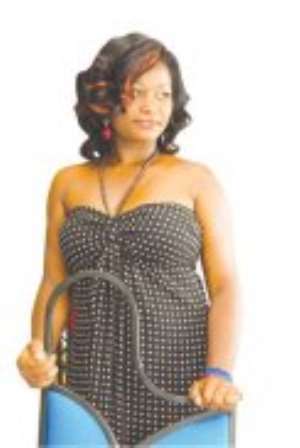 If Anita Owusu, hostess of the Saturday Morning Ride on Metro TV, did not have such a gargantuan following to ride with on her show, she might still not mind riding alone.
Fact is, Anita loves what she does so much that she and her viewer audience appear to have merged into one in this trendy show that runs on Saturday at 11 am and repeated on Wednesday at 9am.
"I love what I am doing so much that I wish I could do more ", the bubbly and yet taciturn lady told Showbiz last Tuesday. Regrettably, Anita said she could not do any more now because she loves to be at the service of her 5 –year old daughter "Mi Corazon."
Still Anita competently produces as well as presents the Morning Ride on schedule and manages to keep it rich, entertaining and informative.
During the week, she said, she selects the topics to be discussed in the multi-faceted magazine programme, goes on location with her team to film segments, invite well-selected guests and generally spruces up for the big day on Saturday. And it's live and unpredictable.
Perhaps the entertainment segment which has seen both young and great performers such as Kojo Antwi, Hugh Masekela, Tagoe Sisters and Stella Damascus appearing on the show to speak about their careers has remained the most attractive to youthful viewers.
That is not to discount other segments on beauty, health, fashion, and upcoming events and the rather "weird" subjects such as cremation, love charms and candle burning that pop up sometimes. "'I'm a very curious person" she said."I love to go out slightly off the regular beaten paths of other magazine programmes to explore" she said.
Asked about her most satisfying experience on air, she responded "it will be difficult to single out any particular one. Whenever I have a good show that runs without a hitch, that's it".
When it comes to challenges, Anita said her worst nightmare are those occasions when a confirmed guest calls last minute to say that something had held him up and therefore could not appear on the live show."Believe me, it's hell when that happens"
If there is any surprise that one learns after speaking with Anita for the first time, it is not that she is "old school" as she claims she is or that she loves good wine but more deeply, she is Hindu.
"Yes I have followed my Dad as a Hindu and the principles of my faith have helped me to be very disciplined which helps me in my career a lot "she said.