MISS MALAIKA MOTHER'S DAYS DONATION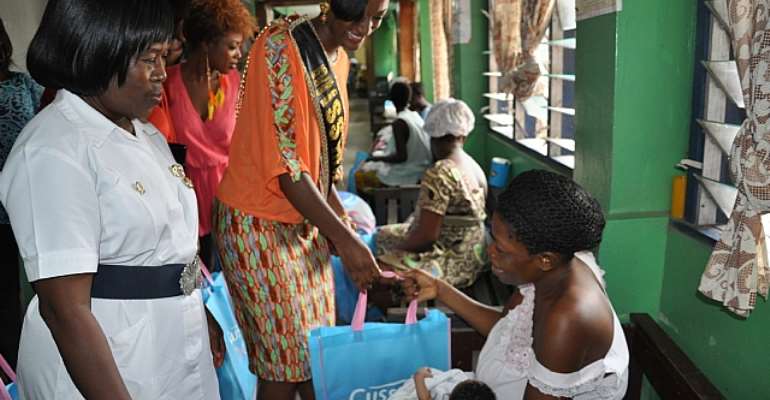 IN line with her aim to throw more light on maternal mortality in Ghana and to ensure that mothers feel as important as they should as the backbone of the Nation, Miss Malaika Ghana 2011 Gerry Partington, has donated a variety of mother care items to mothers of two major hospitals in Accra.
The heartfelt donation which was done at Korle-Bu Teaching Hospital and Ridge Hospital all in Accra, was done on Sunday 13th May, 2012 as part of the Mothers Day Celebration. Speaking to the press at the event, Gerry said that "We can never show enough appreciation to women who toil in giving life, love and care to us.
"They make the hard sacrifices daily for us while lovingly molding us into the people we eventually become. Our dear mothers are blessings and there is no better way to celebrate them than to show our love and appreciation to them on Mother's Day, a day set aside to honor these wonderful women"
Gerry presented to all the Mothers present at the Labour Wards of the two Hospitals with a hamper of sponsors product including, Baby Oil, Powder, Jelly, Antiseptic, Sanitizers, Lotion, Wipes and Soaps from PZ-Cussons. The hamper also contained Feeding Bottles, Bibs, Face Towels, Pacifiers, Baby clothes and Cussons tote bags.
As if that were not enough, Gerry with the assistance of the National Malaria Control Board donated treated mosquito nets to the new mothers to protect them against the bite of the malaria causing mosquitoes. The nets were most important because the Malaria in Africa is still one of the highest causes of maternal and infant mortality.
The sensational female musician Efya, extended a helping hand to Miss Partington's cause. She was on hand to entertain the mothers of with the songs at the Maternity Ward of Korle-Bu. Efya said that she agreed to be part of Gerry's donation because she saw it as a very laudable concept as mothers are most important in the lives of their children.