GH-ONE AIRS BIG BROTHER AFRICA STARGAME HIGHLIGHTS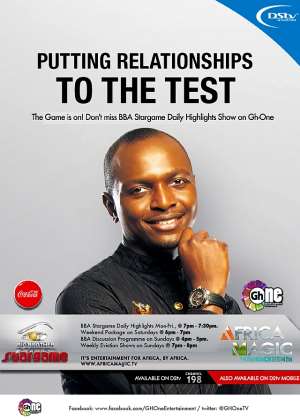 THE continent's biggest reality show that captivates the whole of Africa for three months straight, DStv's Big Brother Africa, is back with a bang and this year the highlights of Big Brother StarGame comes to Ghana's No. 1 Entertainment Television Station, GH-One.
GH-One has acquired the rights to air the StarGame reality show highlights which means that viewers of the urban network across the nation will have the unique opportunity to watch all the drama from the Upville and Downville houses through daily highlights, a weekend omnibus, a discussion show and the eviction show.
The Daily Highlight's segment airs from Mondays to Fridays between 7PM and 7.30PM. These daily highlights are an exciting compilation of the previous day's activities in a 30 minute program.
Over the weekend the StarGame houses will come alive on GH-One, captured in a one hour omnibus of the weeks highlights Saturday's 6PM to 7PM.
The excitement continues on Sundays with an engaging hour long discussion segment that reviews the weeks activities in the houses from 4PM to 5PM. The discussion segment will pre-empt the dreaded and most hated aspect of the competition by the housemates as well as viewers - EVICTIONS!
The Eviction shows, hosted by dynamic presenter I. K Osakioduwa, will be aired live on Sundays between 7PM and 8PM. One can expect nothing short of the twists, turns, suspense and surprises that usually come with the eviction show.
With more star power, housemates, glamour and cash up for grabs than ever you have no excuse but to tune in to watch Ghana's three contestants; DKB in Upville and Mildred and Keita in Downville .
Get involved by keeping your favourite housemate in Big Brother StarGame - via web or SMS. To vote via web go to www.africamagic.tv/bigbrother, log in, click 'Vote' and then click the appropriate button for the housemate you'd like to keep in the house. You may vote once per hour. To vote via SMS, send the word VOTE followed by the housemate's name to the number for your country below. SMS's are charged per specified network tariffs in the various countries. Please note that you can vote 100 times by SMS per telephone number during each voting period.
Ghana
MTN 1474 GHC 0.70
Vodafone 1474 GHC 0.70
Espresso 1474 GHC 0.70
Tigo 1474 GHC 0.70
Airtel 1474 GHC 0.70
For more information, log on to www.africamagic.tv/bigbrother and www.ghone.com