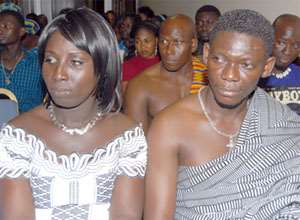 Popular Actor Alex Kofi Adu Mensah aka Agya Koo has said though he caused the arrest of his wife, he least expected her, Victoria Darko aka Akua Vic, to go public and lie about him and their marital matters.
According to Agya Koo, he never had negative thoughts about Akua Vic but blamed her for allowing herself to be used by his detractors.
Speaking publicly for the first time about his marital problems on Adom TV on MultiTV, Agya Koo indicated that though he had no regrets marrying Vic, he would find it difficult to reconcile with her now.
'I will die if I take her back—wadwuma besei die, anka woyere nwu' to 'wit it is better to lose your wife than to lose your job', the popular actor/musician noted.
Kofi Adu admitted to causing the arrest of his wife of 17 years, as well as a man he suspected was dating her.
He however denied not taking care of the wife or their only child, adding even their daughter's school teachers can testify about who pays her fees.
He added that he had always walked with Vic to pick most of the awards he had received in the entertainment industry.
When the host inquired if the marital problem had affected his job in any way, Agya Koo replied in the negative. He said he even had more movie contracts to work on.
According to the comedian turned actor/musician, if he was to meet the wife and tell her something, he would just say, 'I told you so'.
Agya Koo added that the issue was now with the Domestic Violence and Victim Support Unit (DOVVSU) of the Police Service, because his wife alleged that he had not been performing his responsibilities as a family man for some time.
The actor indicated that DOVVSU had advised them to go to court because his wife did not want to allow him take custody of their only child (Yaa).
When asked if he would consider marrying again, Agya Koo stated that he was now afraid of women and that even if he would, he would 'think twice'.
CREDIT: Yaa Asantewaa, Adomonline