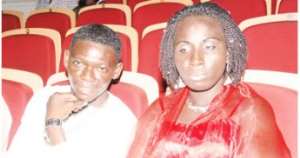 Agya Koo and Victoria
Agya Koo troubles the never ending controversy surrounding popular actor, Agya Koo does not seem to be waning any time soon; with the latest twist being the arrest of his wife, Victoria Owusua Adomako for allegedly stealing his car and giving it to her boyfriend.
Adom News sources say Victoria was picked up by police at Senya Bereku in the Central region together with her alleged lover, whose name was only given as Kwadwo who Agya Koo reportedly claims masterminded the stealing of his car.
When Adom News contacted Agya Koo real name Alex Kofi Adu, he denied knowledge about the story saying he had not caused the arrest of anybody and asked the reporter to conduct his own investigations to get to the real truth.
However when Asempa FM's Yaa Ayisa, visited the Tesano Police Station where the case is being handled, the investigator, Corporal Antwi, confirmed that Agya Koo was indeed behind the arrest of his wife and her alleged boyfriend.
Yaa Ayisa reported that Victoria Owusua Adomako denied stealing her husband's car or havingan extra marital affair and explained that she used the car to transport her belongings from her matrimonial home to a new apartment she rented at Kasoa some three months ago.
Victoria reportedly stated that she left her matrimonial home to avoid the continuous intimidation and humiliation meted out to her by her husband.
Narrating some of her ordeals, Victoria disclosed that Agya Koo always walked her out and locked the door of the room they shared, whenever he was going out or even going to the washroom as if she was an intruder.
She was also dissatisfied that Agya Koo had sidelined and relegated her to the background now that he is rich and famous after she had hustled with him for years.
She said she heard that Kwadwo who he described as a friend had been picked by policemen at his house in Berekum because of her so she drove there to find out if it was true only for her to be arrested as well.
This is about the second time that controversy surrounding Agya Koo's love life have become public.
A woman, Mary Aboagye who claimed to also be his wife accused him of not taking care of their five-year old son and subsequently filed a case against him at the Kumasi branch of the Domestic Violence and Victims Support Unit of the Ghana Police Service.
Also, Agya Koo has been appearing before a Kumasi Metropolitan Assembly (KMA) Circuit Court to register his protest to the allegation that he asked for sexual favours from his shop attendant, Cecilia Tandoh, 24 who he has accused of stealing GH¢60,000 from his Tetemofra Film and Music Production shop, at Bantama in Kumasi.