TERTIARY BEAUTY QUEENS EXPOSE PLIGHT OF UNDER-PRIVILEDGED SCHOOL KIDS IN ADA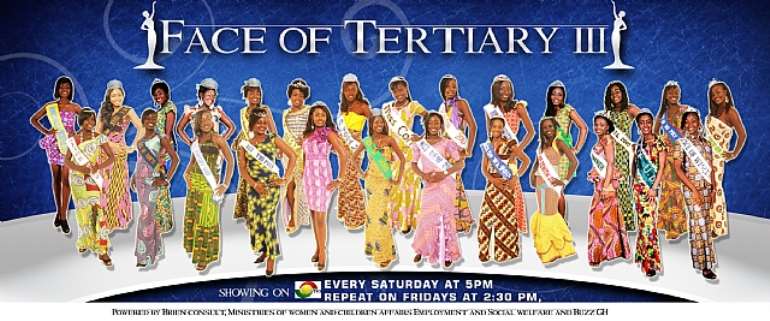 Over 26 queens from the most recognized tertiary institutions in the country, have paid a visit to the deserted and forgotten island of Tsarley Korpke in Ada.
A predominantly fishing community, the village has only one active basic school, the Maranatha Basic School, where the kids practically have to sit on sand in their classrooms and have limited access to essential learning tools that they need to properly study the curriculum of the Ghana Education Service.
The visit of the tertiary queens who are participating in the Face of Tertiary Beauty pageant was therefore aimed at exposing the plight of the under-privileged kids in the community who have little or no access to education.
The Queens spent a day with the kids of the community and donated some educational items to the school.
This visit to the school, was part of the activities for this year's Face of Tertiary beauty pageant cum reality show which is currently in its 6th week.
According to organizers, Brein Consult, it was necessary to bring to the fore, the plight of the under-privileged kids who also have their quota to contribute to society and was also in line with the vision of the pageant which seeks to select a youth ambassador to fight against child labor.
Whiles on the visit, the girls, visited the townsfolk, engaged in cultural activities with the community and later fed the kids in the school. They also spent the day, aiding teachers in teaching the kids as well as interacting with them about their challenges and ambitions for the future.
The kids were visibly elated, especially, after the tertiary beauty queens made a donation of educational items which included exercise books, pens,t-shirts, and other materials worth over GHC1000 to them to aid in their education.
The visit was filmed as part of the FACE OF TERTIARY reality show , which shows on TV3 on Fridays at 5pm and Saturdays at 2:30pm.