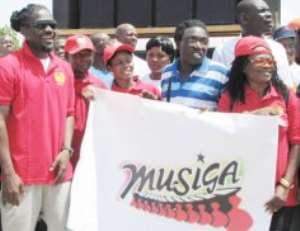 It may have come as a surprise to some people when they saw a delegation from the Musicians Union of Ghana (MUSIGA) participate in this year's Greater Accra regional celebration of May Day, held at the Oninku Park at Community 1 in Tema.
The reality is that MUSIGA has been part of the Trade Union Congress (TUC) for sometime now and the point MUSIGA appeared to be getting across is that making music is like any other job and musicians should also officially have the bargaining power to negotiate for fair wages for themselves.
Making music has for a long time been seen by many as a sort of pastime activity that does not necessarily need the sometimes intricate dynamics of what an employee should expect from an employer. MUSIGA sources have indicated that the affiliation with TUC has generated benefits such as close links with the International Labour Organisation (ILO).
An area that MUSIGA claims to have acquired valuable knowledge in through the TUC and ILO is how to work with proper contracts. It is a fact that that many players in the creative industry still do not see the essence of working with properly prepared contracts though it has been said on numerous occasions that it is more professional to put things on paper in their official dealings with others.
Creating music is a much harder business than many assume. We hope the current executive of the MUSIGA will wisely exploit its connections on the labour for better terms of work for its members. An atmosphere where members can fully enjoy the fruits of their creativity is what everyone desires.