Gyedu Blay Ambolley Celebrates Birthday Tomorrow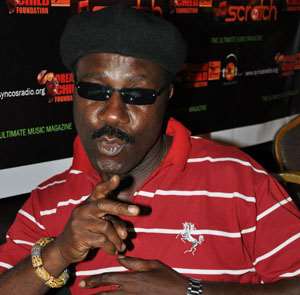 Gyedu Blay Ambolley
Ghana's afro-pop/rap music icon, Gyedu Blay Ambolley, will celebrate his birthday tomorrow Sunday April 15 at the +233 Jazz Bar and Grill located on Ring Road, opposite the Ghana Broadcasting Corporation (GBC) in Accra.
The birthday party, which is expected to attract a number of showbiz personalities, will witness performances from stars like Pat Thomas, Paapa Kofi Yankson, Jewel Ackah, Tinny and a host of others.
Ambolley, who has promised to perform his favourite hit songs to satisfy friends and patrons who will attend the party, is expected to surprise them with a dramatic blend of traditional and contemporary rhythms.
The event, which is also expected to attract a large number of jazz music fans, as well as stakeholders in the music industry, will kick off at 7:00pm.