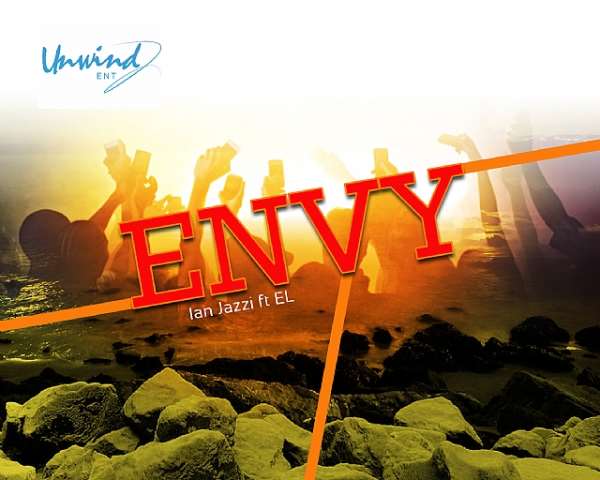 Chorus (EL):
The only thing I see when I look in your face
You can see my destiny and success is my fate
So I feel your jealousy and I'm feeling your hate
So keep hating on me
I feed off your envy
And nothing you can say can ever hurt me now
I feed off your envy
And nothing you can say can ever bring me down
I feed off your envy
And nothing you can do can ever bring me down
I feed off your envy
And nothing you can say can ever hurt me now
First verse (Ian Jazzi):
How could I be hungry?
They hoping that I'm hungry
Wishing that I'm needy
But fulfilled 'cos they feed me
Funny, right?
I keep growing y'all
You fed me so much I'm big like I should be
Size of a star, with no signs of stopping
And when I look around me heavenly bodies revolve me
I keep moving on, and I'm getting stronger
Before you take me down, be ready to survive a supernova
Only if you can, but then I doubt it
You in to lose lose, me, I mean to win win
Life of the chosen, I only chose the shoes I'm in
The path that lays before me
God set it up for me
The reason He keep watching me
The reason I keep shining, see
- I'm blinding you
With just a flash, you hating who?
Waste of time
You must be out your mind
Thinking I'ma die
Before my time?
That's a lie
Chorus (EL):
The only thing I see when I look in your face
You can see my destiny and success is my fate
So I feel your jealousy and I'm feeling your hate
So keep hating on me
I feed off your envy
And nothing you can say can ever hurt me now
I feed off your envy
And nothing you can say can ever bring me down
I feed off your envy
And nothing you can do can ever bring me down
I feed off your envy
And nothing you can say can ever hurt me now
Second Verse (EL):
See I've been here for a very long time
And I seen so many things happen in my lifetime
And I got nothing but love for my fans and my friends and my fam 'cos they, they put me in my right mind
And even though we seen so many haters I can never let 'em take us back to the place where it all began
No matter what they do or say about it
We gon' keep making that profit – for real
Till death do us part
I promise I'ma never give it up
Never ever gonna get enough
I'll be your favorite rapper's favorite rapper both musical and lyrically
I know it's driving you insane
But I'm only tryna live my live
So won't you let me live my life, chale?
I'm gonna take it to a level that it's never been
Just me and my brethren
If you feel me c'mon put your 'Ls' is the air for me
Chorus (EL):
The only thing I see when I look in your face
You can see my destiny and success is my fate
So I feel your jealousy and I'm feeling your hate
So keep hating on me
I feed off your envy
And nothing you can say can ever hurt me now
I feed off your envy
And nothing you can say can ever bring me down
I feed off your envy
And nothing you can do can ever bring me down
I feed off your envy
And nothing you can say can ever hurt me now
Third verse (Ian Jazzi):
Envy, jealousy
These haters got that PHD (Pull him down) – syndrome
But funny how they saying they are friends though
Liars
Pretenders
Gossips
Fakers
The least chance they get then they prove they're back stabbers
and biters.
They bear false witness against us
even though it's clear that they all wanna be us
Walk, talk and act with that swag like they be us
and now they all mad just because they can't be us or see us
We're high that's why they can't understand us
But understand that is the reason why I'm feeding
The more they get envious, its obvious I'm speedin'
I'm so far gone like my hairline receedin'
I'm baldin', ballin' just like spaldin'
They can't bring me down cuz I'm flyin' and dunkin'
Somebody stop me!!!
Call Stanley Ipkiss
I feed off your envy take the mask off I see ya.
See ya.
Chorus (EL):
The only thing I see when I look in your face
You can see my destiny and success is my fate
So I feel your jealousy and I'm feeling your hate
So keep hating on me
I feed off your envy
And nothing you can say can ever hurt me now
I feed off your envy
And nothing you can say can ever bring me down
I feed off your envy
And nothing you can do can ever bring me down
I feed off your envy
And nothing you can say can ever hurt me now
BIO OF IAN JAZZI
IanJazzi is an accomplished artist and entrepreneur. Multi-talented and traversing many artistic styles and genres, IanJazzi has made significant contributions to Accra's music and entertainment scene as a musician, producer, spoken word artist, emcee and actor. In addition to his talents in the performing arts, IanJazzi is also successful as a model and businessman. IanJazzi showed musical promise at an early age. He taught himself to play the keyboard when he was only 10 and hence played the keyboard for his junior high school till he completed at the age of 13. Throughout junior and senior high school he sang in the school and church choirs and in an acapella group and eventually went on to become Music Director of his high school musical group. In this capacity, he found himself surrounded by many types of music from all over the world. Heavily influenced by popular American hip hop acts such as Nas and Jay-Z, IanJazzi developed a keen interest in hip hop and began rapping, freestyling, and battling with his peers in high school. He showed exceptional skill at this new-found talent and it wasn't long before he began writing his own lyrics, producing his own beats and was quickly rising as a prominent figure on the emerging GH Rap scene. It was his profoundly conscious and poetic lyrical style that earned him the title "IanJazzi…The Lyricist". Over the years IanJazzi has maintained a strong presence on the GH Rap/Hip Hop scene as both a solo artist and in collaboration with artists such as Jayso and the Original Skillions, E.L, Trigmatic, Ronny O, D.K Osei, Sena, Props, J-Town, D Black, Scientific, Mutombo amongst others. IanJazzi's lyrical style is at once socially conscious, thought provoking and spiritual. One of the defining features of IanJazzi as an artist is his commitment to promoting positivity through hip hop music. In contrast to the multitude of artists making careers of glorifying violence, drug use and exploitation of women, IanJazzi dedicates his work to keeping his music clean and delivering positive and inspirational messages to his listeners. Combining this with self-made beats that mix original hip hop sounds with traditional and contemporary African elements, IanJazzi has developed a musical sound that cuts across generations and is truly unique. IanJazzi raps in English, French, Twi, Ga and 'Pidgin' enabling his music to reach across cultural divides and giving him international appeal.
As a poet, IanJazzi is widely recognized and respected for his work in both written and spoken word poetry. He started out writing sonnets and other traditional types of poetry before coming into his own distinctive approach. His poetic style, like his lyrical style, is primarily socially conscious, integrating elements of inspiration and spirituality. IanJazzi's writing is deeply personal, often drawing upon his own life experience and observations on society and life. IanJazzi aims to enlighten and educate through his writing with a unique philosophy characterized by attainment of higher knowledge and recognition of truth. He is currently working on his first publication, Reflections of a Thinker, a collection of poems, quotes and proverbs. IanJazzi's melodic spoken word style has captivated audiences at performances around the city and he has been featured at recurring events such as Jazztone's Open Mic Night and Bless the Mic.
IanJazzi has a special ability to engage and connect with audiences as a host and emcee. With a vivacious personality and a fun, funky style that often incorporate music and freestyling, audiences cannot help but get caught up in his enthusiasm. He has been sought after to emcee various events in the capital. IanJazzi has also been contracted to host various television productions. As former Host and Creative Director of NT1 poetry, IanJazzi not only contributed his creative vision in hosting and directing the show, he also showcased some of his own spoken word poetry. He was the premier emcee of Community Dunks' (Ghana's inter community basketball competition) basketball games at El-Wak Stadium as well as the host of Basketball TV on TV Africa.
He studied Theater Arts as second major to his first which was Economics at The University of Ghana and was featured in many campus productions. No stranger to the camera or to public eye, IanJazzi was encouraged by his peers to try modeling as his ability to exude personality and confidence in front of the camera made him a bankable model and he was soon recruited to do a photo shoot for a major advertising agency. From then on his modeling career has proved to be lucrative with opportunities to model for multi-national corporations such as Coca Cola and Tigo. IanJazzi has been the face of several advertising campaigns and can be seen in newspaper ads, billboards, and TV commercials. Working in the advertising industry as a model and learning the ins and outs of the business inspired IanJazzi to start his own advertising/modeling agency. He has recently established The Unwind Agency which provides models, concept creation, graphic design, and copywriting for advertising campaigns.
As IanJazzi continues to share his talents with Ghana and with the world there is no doubt that he will leave his unique mark on society. Having already influenced so many in his community, IanJazzi is motivated to reach out to an even wider audience and to use music and poetry as a platform to spread his message. With strong determination, unparalleled talent and a savvy business sense, the future is certainly bright for this young artist and entrepreneur.
Connect with Ian Jazzi:
http://www.reverbnation.com/ianjazzi
http://www.myspace.com/IanJazzi1
http://www.twitter.com/IanJazzi
https://www.facebook.com/IanJazzi