PEACE MAKERS RALLY SLATED FOR MAY 25TH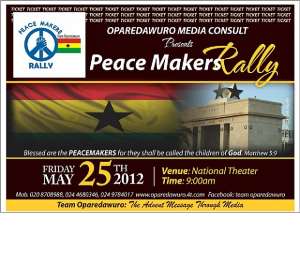 Management and Team of Oparedawuro media consult last Saturday launched and slated it peace campaign programme dubbed THE PEACE MAKERS RALLY for May 25th this year. The rally is aimed at maintaining peace towards the 2012 general election and also bringing all senior journalist, programs managers, and editors to sign a signatory of peace and pledge not to provide their media platforms for any political party to over power or abuse the other in any manner in other to achieve a peaceful atmosphere before and after the elections.
Among dignitaries that attended the launch last Saturday was Dr. Moses Okine programmes manager of Oman fm, Pastor PNK Duodu-Administration officer, religious Directorate office of Ghana Armed Forces and First Adventist Millitary Pastor in Ghana, and Osabarima Dr. Agyare Tenaadu II of Kade who chaired the launch among others. Speaking to a section of the press at the launch, the chairman Osabarima Dr. Agyare Tenaadu II urged all Ghanaians to be part of this wonderful cause and should also try to make peace with one another so as to maintain peace in the upcoming election. He also advice politicians not to abuse each other to achieve success in this years election and should also avoid political insults.
In an interview with Pastor PNK Duodu who is an Administration officer, religious Directorate office of Ghana Armed Forces of, he said in his experience as a military officer, he has seen the effects of civil war in his peace keeping work in other African countries and will advice, plead with Ghanaians to avoid anything that will end the whole country in any form of blood shedding. He said casting votes is not done with insults or throwing punches but with the thumb. "We should all go out and vote peacefully and go back home. I entreat the media to carry on with their professionalism and avoid all sort of bad practices in their field as journalist. I pray every Ghanaian will put mother Ghana first in all we do" he said.
The event will be held at the National Theater and among artistes that will pass through to make the event a colorful one is Prof. Kofi Abraham, Mark Anim Yirenkyi, Newlove Annan from U.S.A, New Era Pippers, Oda Youth Choir, Divine Chorale and many others. Tickets are now on sale at Ghc30 VIP and Ghc10 regular at all SDA churches in the capital and Oman Fm.