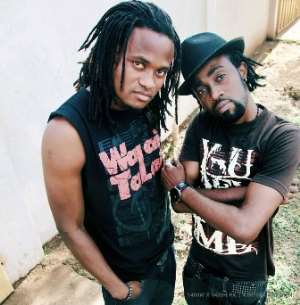 'Walai Talai' as a single by the Hip life Duo Double was one of the hottest songs for the year under review 2010-2011 but never made it to the Ghana music awards nominations list for a reason no one knows.
The song in question, 'Walai Talai' due to its Chinese fusion in the beginning of the song was on majority of lips whether old or young but for some strange reason the image behind the song was also not known by the masses, for these two reason which is, the losing out on the GMAs and the Image of the artiste not blending with the song we caught up with the group Double to ask them why?
Double mentioned: 'we were or still shocked as Ghanaians, our first single 'Walai Talai' was everywhere within and outside the city but people hardly could tag the face with the song, so we are tempted to believe that, it could be a course for us losing out on the music awards and other major state events, because you and I know that walai talai is a huge hit'.
The group maintained: 'nevertheless we are still positive about the movement, it is a passion and once it is a passion with talent in there you can't stop hence Double is not stopping, as a matter of fact we are back, hotter than before with another big one plus a huge surprise'.
Double noted in their final statement: 'We want to thank all who made and are still making 'Walai Talai' (the song with the Chinese fusion) number one on radio, on the streets, clubs and Pubs, we say we are humbled but they should keep on supporting the movement'.
'Walai Talai' had the simplest lyrics that every kid could play around with but if you thought that single was a sellout then watch out for the new one which comes with a big surprise soon your screens.
It's the Ghanaian base music group Double coming close to a local radio station near you with their new single and huge surprise, Ghana, get ready for this vast one, it will blow your mind.
Story: Nana Yaw Wiredu/www.nanayaw18.com