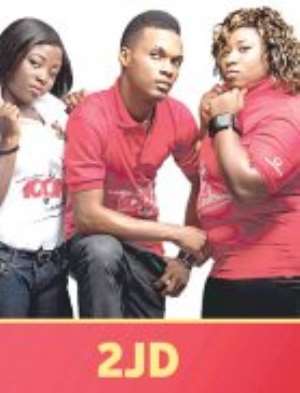 Whoever it was who first came up with the cliché "the sweetness of the pudding is in the eating" obviously did not consider the extensive preparations that often go on behind the scenes in show business.
Watching the recording of the maiden live show for the Vodafone Icons mixed edition at the National Theatre last Thursday, I was bowled over by the scene that greeted me long before the singers stepped on stage. Obviously a lot of sweat had gone into the preparation for this two-hour show.
My curiosity, I must confess, was a little biased following questions that were raised last year in the entertainment media over the need to import producers from outside the country to run the show.
"Was the production going to be as good as the one last year?", I kept asking myself and at the same time hoping that the Ghanaian production company who had won Vodafone's confidence would somehow pull it off.
E-volution, the young events company who made the headlines with their maiden production of Amakye Dede in December 2010 had pulled it off and I could breathe again.
Right from the red snake lights that met guests on the National Theatre stairs all the way through the lobby, the décor was tasteful. Inside, the arrangement was different from what have been familiar for such reality shows.
The bandstand had been located off-stage to the left of the auditorium and the judges had been placed on a riser to the floor level of the stage.
The backdrop comprised panels printed in red and black dots that flanked three circles, a design which I learnt was inspired by Vodafone's 020 prefix.
Once the show got started with mentors Appiah Dankwa, Gena West and Miss Naa in their seats and versatile musician Kwame Yeboah and bandsmen at their instruments, it was all lights, sound and action. The lighting design was particularly delightful.
The eight trios: Bass (Cecil Smooth, Henry Akongbota and Eric Letsa), Ginger (Perez Lamptey, Sandra D. Owusu and Richard Owusu ), 2JD (Jasmine Emefa Aikins, Jayson Amanfoh Smith and Dorinda Ofosuah), Vybes ( Addy Bernard Danso, Christian Amoah and Chidinma Onuoha ), Ruff Road(Nelsyn Narh, Peace Ayillah and Ruth Anaman), Sharps (Veronica Sarfo Adu-Nti, Nii Nookwei Tackie and Reuben Nii Ayitey Hammond), Black 'n Peach(Emma Orleans-Lindsay, Noble Nii Nortey and Noella Wiyaala) and Waves( Rosemary Ampofoh Gertrude Hansen-Sackey and Joshua) came on to flaunt their talents obviously put in the right groove by earlier performances from Nana Yaa and R&M, who were winners of the maiden Icon all-girl event last year.
Every Sunday from 7.00pm, almost all the television stations in the country roll out the live recording and the general public who wield 100 per cent power are expected to push for their favourites through voting to 1788 on all networks. The highest Vodafone texter, the organisers say, wins a KIA Rio saloon car.