Hitz Fm Hosts General Marcus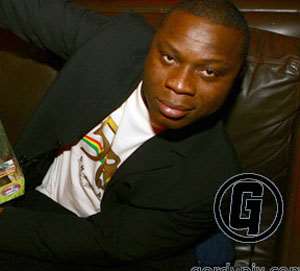 General Marcus
UK-based Ghanaian reggae music star General Marcus yesterday declared that reggae music runs through his blood and that he would devote his time to do reggae music because he loves it.
Speaking on the reggae-award winning show 'Taxi Driver', hosted by Blakk Rasta, General Marcus declared that his biggest regret in terms of music was when he wasted about £15000 in Europe to record an album.
He added that he was still performing at most Ghanaian events in the UK, adding that he would maintain the name General Marcus because he was a general.
General Marcus told Blakk Rasta, the host of 'Taxi Driver', that he had gone through a lot of problems as a musician and had learnt a lot to build his musical career.
General Marcus, who came into the limelight in the mid-nineties, was discovered by television presenter and radio disc jockey Poncho, in the days when he presented 'Guinness Music for Your Dancing Feet'. General Marcus has never looked back.
Marcus has performed several gigs with Ghanaian-based reggae band Kente and featured on the track ' Inner City' , which brought him into the spotlight and identified him as a roots raga artiste.
Soon after, General Marcus was approached by an international producer who flew him to one of the best studios in Jamaica, where a host of famous artistes such as Buju Banton record their music.
General Marcus introduced a new trend of Ghanaian reggae dancehall music, a style adopted by artistes such as Samini, Yogi Dogi and recently Wuta.
Though he does not wear dreadlocks, General Marcus propounds the philosophy of Pan-Africanism through his music. Most of his songs address the suffering masses in Africa, and the greed of the individuals who take advantage of the system.