Tema Youth Choir Makes Donation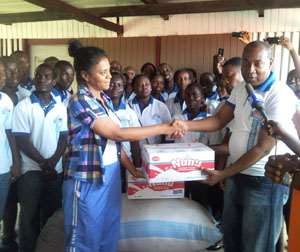 Ebenezer Allotey of Tema Youth Choir presenting the items
THE TEMA Youth Choir on Saturday turned the Maternal Child Health Hospital in Kumasi into a singing ground when they sang melodious tunes to patients and medical staff at the facility.
This was during a donation by the Tema Youth Choir, led by its founding director Ebenezer Allotey, to the hospital as part of activities marking the singing group's 10th year anniversary.
The donors, who were in a cheerful mood, sang and danced to the delight of all present including patients and their mothers, after which they prayed fervently to God to heal those on admission at the hospital.
After performing to the admiration of all present, the Tema Youth Choir presented items such as Soyabeans, milk and sugar worth GH¢ 500 to the management of the hospital to help in the feeding of the young patients.
Dr. Imrana Mahama, Medical Officer at the hospital who received the items, decried the increase of reported cases of malnutrition among young children brought to the hospital lately.
He noted that most of the children brought to the hospital were anaemic, pale, with their legs swollen, attributing the symptoms to poor feeding.
According to him, most of the mothers who brought children with the aforementioned conditions to the hospital usually complained of severe poverty which prevented them from feeding their children properly.
Dr. Mahama indicated that the presentation was very timely and would help the management of the hospital greatly to continue taking good care of the children brought to the hospital.
Ebenezer Allotey stated that the presentation formed part of his group's social responsibilities, adding that his group would soon visit the Nsawam prisons to donate and perform for inmates.
Dr. Mrs. Annie Opoku, Medical Superintendent at the hospital, thanked the donors greatly for their timely intervention, promising to use the items donated for their intended purpose.
The Member of Parliament for Subin in Kumasi, Hon. Isaac Osei, is a patron of the Tema Youth Choir and his valuable interventions contributed greatly to the singing group's decision to donate to the hospital.
Younger brother of the Subin MP and NPP Director of Operations, Subin Constituency, Nana Kwame Kyeretwie, urged stakeholders to play a leading role to totally wipe out malnutrition among children.
FROM I.F. Joe Awuah Jnr., Kumasi