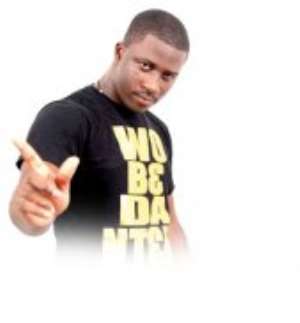 Asem
One of his hit songs says 'give me blow' and when he was hit by a big blow in terms of a rape scandal last year, rapper says incessant prayers proved to be the safest refuge.
The rape issue and the immediate attendant matters, culminating in him leaving the Lynx Entertainment label, was a phase the articulate, handsome and young musician would want to delete forever from his memory bank.
He asserts he is on solid ground now because he implored his God to wrestle the 'demons' that battled him and his new album, Solid Ground is an affirmation of his grand faith in the Almighty.
"We are always faced with light or darkness and which one to choose as our source of power in every situation. I'm a Christian and prayer has drawn me closer to my Maker. I believe prayer works a lot," said.
What appears to have worked a lot for also is his determination to ply on as a creative, open-minded artiste. He sticks to his known image as a hip hop guy to help him hold on to his core fans but he also expands his wings to other contemporary styles on the 16-track Solid Ground album.
"The songs are crafted to appeal to all shades of audiences but at the end of the day, it is simply music that has moved beyond being classified into the genre thing. The album has a little bit of everything."
Those bits of everything were partly provided by the albums producers who included Kaywa, Magnom and Jayso from Ghana and Spaceboy from the United States of America. Artistes that make guest appearances include Kwabena Kwabena, Irene Logan, Dampoo, DJ Black and JR from South Africa.
used to be on the Lynx Entertainment label but had to part company with them last year. Solid Ground has been released on 's own WBDN (Wobedantem) Records label.
"It becomes necessary sometimes to leave your comfort zone to explore new avenues and become more matured. Lynx had become my comfort zone and I needed a new challenge. I learnt a lot of things from there but I have not missed anything parting with the label."
The first single WBDN is pushing from the Solid Ground album is the Bye Bye track featuring Kwabena Kwabena. The two artistes effectively combine their singing and rap abilities in a bid to reach a wider audience. will definitely pray that it happens since in his own parlance, 'prayer dey be.'
Solid Ground was made available online last Friday, February 10 for fans to listen to snippets of the songs. The album will hit the music shops from tomorrow, February 17.